Posted on
July 10th, 2014
by Mary Lord
Their
human-powered helicopter
hovered into the history books, staying aloft for over 60 seconds and winning the $1 million Sikorsky prize from the American Helicopter Society.
Now, a team of University of Toronto engineering graduates and students led by Cameron Robertson, 27, hopes to create the world's fastest human-powered bicycle.
AeroVelo
's prototype vehicle, dubbed Eta after the Greek letter that symbolizes 'efficiency,' is a two-wheeled bullet designed to significantly surpass highway speed limits on less than 1 horse power.
Aerodynamic
sheathing and a high-performance transmission could enable the vehicle hit a projected top speed of
145 km/hr (91 mph).
That would outpace the current speed record of 133.8 km/hr (83 mile per hour) set by a Dutch vehicle at the 2013 World Human-Powered Speed Challenge at Battle Mountain, Nevada.
AeroVelo's goal for this year's Battle Mountain race isn't just to shatter speed records, however. "The human engine is a really good symbol for how little it takes to accomplish the things that we currently throw fossil fuels at," Robertson says. "We want to inspire the next generation of youth to get involved with science, technology and engineering, just to make sure that as time goes on we have people who will make the most of a world full of dwindling resources."
AeroVelo estimates it will spend $100,000 and 10,000 hours to complete the project. Eta's success, however, rests as much on the "pedal power" of the three athletic team members training to drive it as on the engineering and design.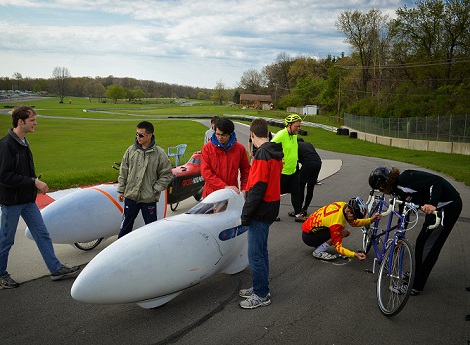 Video & photos courtesy of AeroVelo
Filed under: Aerospace, e-News, Explore Engineering, Mechanical
Tags: aerodynamics, AeroVelo, Battle Mountain, bicycle, bike, Canada, gear, human-powered vehicle, race, University of Toronto