Posted on
August 31st, 2010
by jxh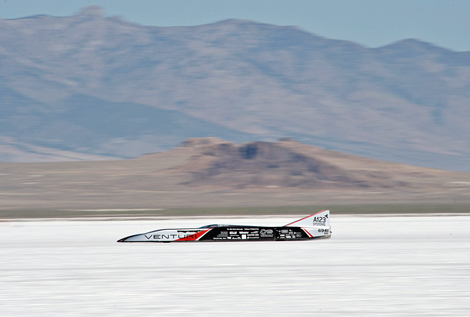 If you need examples of cool things engineers can do in college, consider this: mechanical engineering students from Ohio State University work together building alternative-fuel race cars as part of the Buckeye Bullet team.
Not cool enough? Well, the team just broke the electric car land speed world record with their most recent vehicle, the Buckeye Bullet 2.5.
Racing on the Bonneville Salt Flats in Utah last week, the Bullet 2.5 reached a peak speed of 320 miles per hour and logged a two-way average speed of 307.66 miles per hour.
The Ohio State team has been racing electric cars for more than a decade, but their latest design is the first to run purely on battery power.
Last year, their hydrogen-powered Buckeye Bullet 2, set a world record for fuel cell-propelled land vehicles by speeding at an average of 302.87 miles per hour.
Even though the body, chassis, and electric traction system of the Bullet 2.5 match that of its predecessor, it took the students 11 months to swap the Bullet 2's fuel cell for the lithium-ion batteries that power the Bullet 2.5.
That world record still needs official certification, but it soared past the previous record for an electric vehicle by more than 60 miles per hour.
What's even more phenomenal is that the Bullet 2.5 is simply a test vehicle for its successor, the Buckeye Bullet 3, which will build upon the team's battery technology and is expected to once again shatter all previous records.
Watch the Buckeye Bullet 2 break the world record in 2009:
Image: blog.BuckeyeBullet.com/Ohio State University
Filed under: e-News, Electrical, Mechanical, Transportation
Tags: Cars, Energy, Green Technology, Green Transportation, Mechanical, Transportation