Posted on
June 14th, 2010
by jxh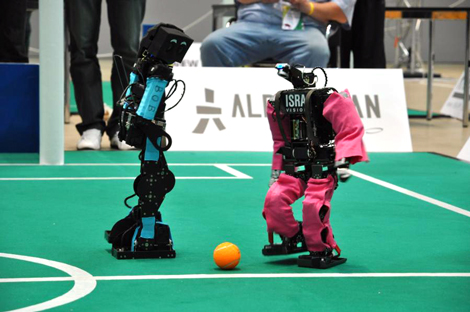 Two robots face off at last year's RoboCup in Austria
While soccer fans around the world are energized about the start of the World Cup, engineers are preparing for the RoboCup world championship, which begins June 19 and takes place in Singapore.
Carnegie Mellon University students, who have been strong competitors in the RoboCup soccer tournament in years past, are especially confident in their robot soccer players this year, thanks to a new algorithm based on physics principles.
The algorithm helps the robots predict the behavior of the ball and will allow the robots to out-maneuver their opponents, invent some new kicks, and find creative solutions to game situations that could even surprise their programmers.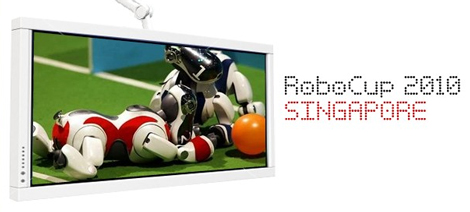 Other teams rely on pre-programmed behaviors that focus on avoiding obstacles and reacting to the moves of their opponents.  Carnegie Mellon's physics-based planning allows their robots to have an awareness of the dynamics of the ball, which enables moves such as tight turns when dribbling the ball.
The challenge faced by all researchers working with artificial intelligence, however, is to get the robots to coordinate with each other. So these soccer games are more than just fun—they're also helping to advance the study and use of robots.
But there's still a lot of excitement: Over 500 teams will be compete in RoboCup 2010,  the world's largest robotics and artificial intelligence event, which involves five different robot soccer leagues, as well as competitions for search-and-rescue robots.
Filed under: e-News, Mechanical
Tags: Competitions for Students, Events, Mechanical, Robotics, robotics competitions, Sports