Posted on
February 26th, 2015
by Mary Lord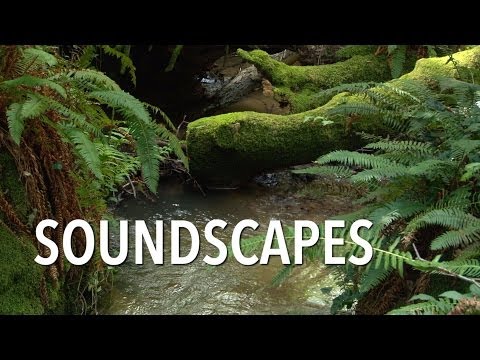 If a tree falls in the forest… the National Park Service may have recorded it, along with howling wolves, thunder crackling, and other natural sounds. That includes man-made noise like chainsaws and cannon fire at Ft. McHenry!
For the past decade, hundreds of microphones have been eavesdropping in parks across the country, capturing everything from avalanches and bugs to frogs and whales. This Natural Sounds Program was designed to protect America's acoustic resources. You can listen to an online sound gallery or view several videos.
Even in the wilderness, peace and quiet can be hard to find. Human noise pollution – the roar of traffic, for instance, like this cool time-lapse map showing motorcycle noise in Glacier National Park – can disrupt the environment, a scientist behind the bio-acoustical project told National Public Radio. Animals may not be able to hear their prey and catch dinner. Birds might fly off course.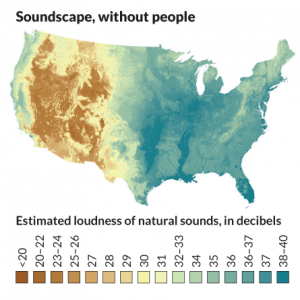 The National Park Service just released a sound map (image, right)  showing decibel levels nationwide. The East Coast, not surprisingly, is noisier than the West Coast.
The good news is, people can turn down the volume and dramatically improve the environment. Even little things, such as speaking softly on a mountain trail or leaving your cellphone at home, can have a big impact.
So what does the fox say?
There's no call of the wild in the National Park Service's Soundscape Gallery. But Ylvis has an answer in this viral hit tune: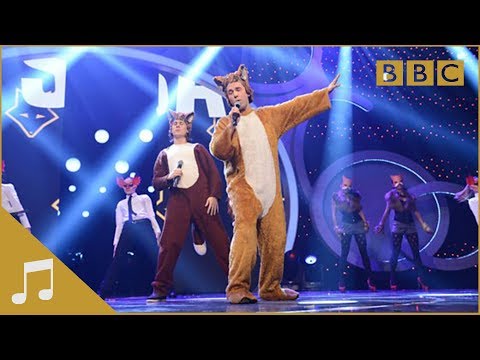 Filed under: e-News, e-Videos, Environmental, Explore Engineering
Tags: Acoustical, Environmental, microphone, National Park Service, noise, sound map, soundscape, Wilderness, wildlife