Posted on
February 23rd, 2011
by jxh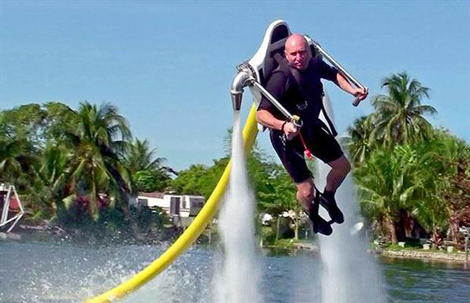 Dreaming about a beach break this spring?
A multinational company hopes you'll soon be flying over water — and not just on an airplane to get there.  Jetlev, a new water-powered jet pack being piloted in Dania, Fla., has the potential to fly 30 feet in the air at 22 miles per hour, making it a lot more thrilling than a water slide or jet ski.
The water-powered jet pack has three main components – a lightweight carbon fiber backpack, a 32-foot-long hose, and an engine unit that floats on water. The engine sucks water up through the hose and forces it through two adjustable nozzles on the backpack, creating up to 500 pounds of thrust. The user can control speed and height with small adjustments to the hand controls. According to Jetlev's website, learning to fly can take as little as six minutes.
Is it safe? In an FAQ section, Jetlev's website addresses such concerns as falling ("even if you fall from the maximum height of 30 feet or 8.5 m, you will be entering the water at less than 30 mph, and all body parts will be slowing down together gradually by drag from the water") and getting hurt ("pressure in the nozzles could reach 60 psi… but because of high flow rates, it may cause low-level pain and bruising in the arms, so one should not place hands or arms in the jets").
Jetlev's $136,000 price tag might deter many inidividuals. Still, the company sees a potentially lucrative market in holiday resorts and charter yacht companies seeking to accommodate thrill-seeking patrons.
Would you take the leap?
Image via Jetlev
Filed under: e-News, Mechanical, Ocean, Transportation
Tags: Mechanical, Ocean, Transportation