Posted on
October 15th, 2011
by aseeadmin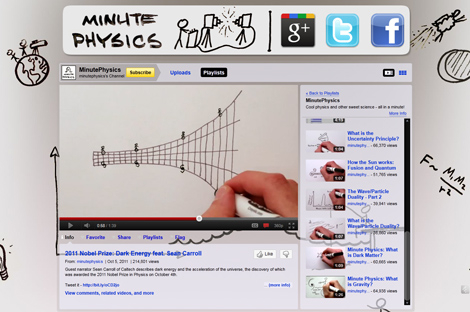 If you're in need of a little physics to spice up your day (aren't we all?), we highly recommend checking out Minute Physics, a delightful series of brief – all under 2 minutes – videos that have been gaining popularity in the blogosphere. The YouTube channel, which is updated weekly with topics ranging from wave/particle duality to the reasons why fire looks the way it does, was created just four months ago by physicist-turned-filmmaker Henry Reich and has since amassed over 1 million views.
The latest Minute Physics video features a guest narrator – Nobel prizewinning physicist Sean Carrol – on dark energy and the expansion of the universe:
This video, entitled What is Fire?, is fantastic as well:
Want more cool videos that double as homework helpers? See Khan Academy and Vi Hart's awesome math doodles.
'
Filed under: Aerospace, e-News, Explore Engineering, K-12 Outreach Programs
Tags: Aerospace, physics, Resources, Watch This