Posted on
August 12th, 2010
by jxh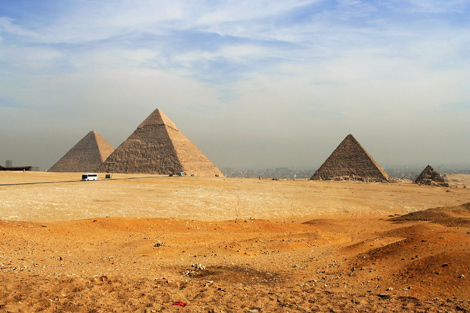 The Great Pyramid of Giza is the oldest and most intact of the Seven Wonders of the Ancient World. Built as a tomb for Egyptian Pharaoh Khufu around 2560 BC, it was the tallest man-made structure in the world for over 3,800 years.
Now, a robotics team from Leeds University in the UK will attempt to unlock one of the pyramid's greatest secrets: what lies behind a hidden doorway in the Queen's Chamber.
The inside of the pyramid consists of a series of passageways with two rooms at its center: the King's Chamber and the Queen's Chamber. Two shafts rise from the King's Chamber to the outside of the pyramid, which are thought to be passageways to the heavens. The Queen's Chamber also has two shafts, but no one knows where they lead, even though they were discovered in 1872.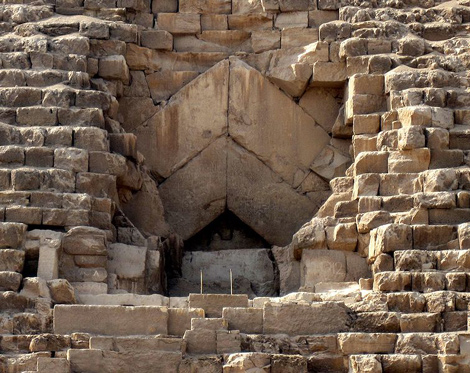 Entrance to Pharaoh Khufu's tomb

In 1992, researchers sent cameras up the shafts and discovered that one was blocked by a limestone door with two eroded copper handles. Years later, a robot drilled through the portal, only to find another larger door behind it.
In order to expose what lies behind the final doorway, the Leeds University team is working with Egypt's Supreme Council of Antiquities on the Djedi project, which is named after the magician whom Pharaoh Khufu consulted when planning his pyramid.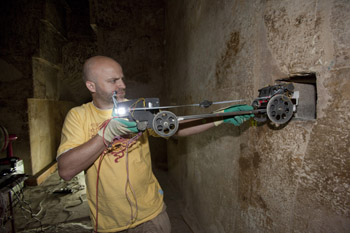 The mission will be carried out by a remote-controlled robotic tunnel explorer (see image at right), which can fit through holes less than one inch in diameter. The robot is equipped with a mini ultrasonic device that can determine the thickness and condition of stone, and a coring drill that can penetrate rock while removing a minimum amount of material. It is also fitted with lights and a snake camera so that it can see around all corners.
The team claims they will continue the expedition until they reach the end of the shaft, which could be as soon as the end of this year.
What do you think the Great Pyramid has been safeguarding for the past 4,500 years?
Images:
Tom@HK/Flickr
Olaf Tausch/Wikipedia
Sandro Vannini/Djedi Project
Filed under: Architectural, e-News, Mechanical
Tags: Architectural, Engineering in History, Mechanical, Robotics