Posted on
December 23rd, 2011
by axb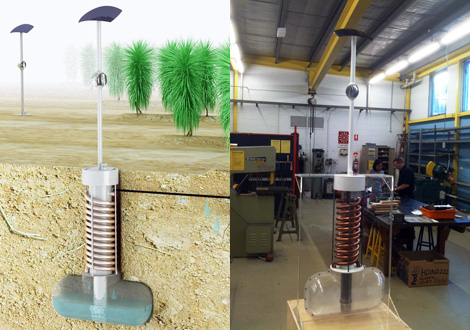 In a world increasingly affected by climate change, unexpected droughts are a harsh reality for many farmers whose livelihoods depend on regular rainfall. That's why Edward Linacre, an industrial design graduate student from Swinburne University of Technology in Australia, decided to invent a device that can literally harvest water from thin air.
Airdrop, as it's called, recently won the prestigious James Dyson Award, which grants Linacre over $14,000 to develop the product. It was selected from among 500 entries from 18 different countries for its simple design and revolutionary approach to irrigation.
The sleek, minimal design of Airdrop is in part inspired by the extraordinary water-gathering abilities of the Namib Desert Beetle, which survives in very arid climates by collecting moisture from the air with its wings. Linacre's device uses a solar-powered turbine to collect the air and deliver it to an underground system of copper pipes, where it is cooled to the point of condensation. The resulting water is then stored in a sub-surface tank and delivered directly to the roots of crops in measured quantities.
Watch Linacre explain his ingenious invention in this video:
Airdrop is purposely designed to be an inexpensive, low-tech solution to drought that farmers can easily install and maintain. Linacre has tested his design extensively in his mother's backyard, where he says it was able to provide up to 1 liter of water for her garden each day.
Top photo by Arsineh Houspian
Filed under: e-News
Tags: Agricultural, Biomimicry, Environmental, Green Technology, water desalination plant