Posted on
April 7th, 2011
by Mary Lord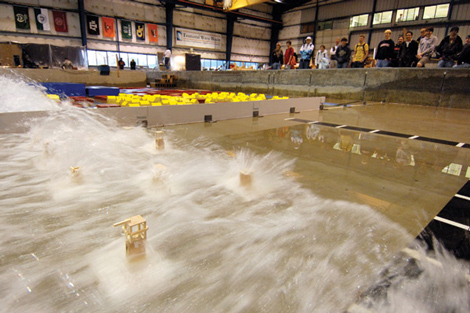 Ask most engineers what drew them to the discipline, and crunching equations in the classroom probably doesn't top any list. Studying explosions, building things, saving the planet—that's more like it.  A growing number of programs now give undergraduates a crack at cutting-edge research—often on socially relevant projects. Want to save lives when tsunamis strike? How about landing a robot on Mars or designing bomb-proof embassies? Check out our continuing series of posts on the country's coolest engineering classes, which demonstrate that the fundamentals can still be fun.
After Japan's devastating tsunami, did you wonder about building safer shelters? Students at Oregon State University's College of Engineering in Corvallis not only get to design such structures; they can test them against the forces of nature in the Tsunami Wave Basin, the world's largest, most sophisticated facility for studying earthquake-generated monster swells.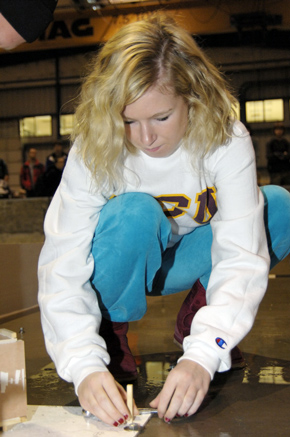 How fast does water rush through streets? What about debris? Could a vertical evacuation shelter work? From the impact of sediment scouring to global warming's effect on shorelines, the scenarios that researchers can model and measure in the 160-foot-long tank are as vast as the sea itself. Since the $6.4 million facility — which is part of the National Science Foundation's earthquake simulation research network — opened in late 2003, hundreds of undergraduates and local middle school students have participated in tsunami shelter challenges.
Among them are students in Professor Michelle Teng's junior fluid mechanics class at the University of Hawaii, which she co-teaches with structural engineering professor and tsunami researcher Ron Riggs.  The students are about to ship their tsunami shelter models to the OSU wave basin, where they will get a real-time view of how well the structures fare through tele-observation on April 26.
"The project has not only introduced the knowledge of tsunami hazard to our students but also demonstrated the new tools (remote learning, tele-observation and collaborations between different universities) in modern engineering education, " notes Prof. Teng, who has taught the tsunami shelter class for the past three years.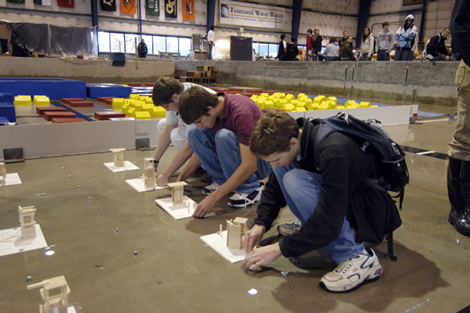 What rivets most students, however, is witnessing the surge's destructive powers first hand as it levels mock towns and turns their projects to debris. "I've never had a project that people reacted to like this one," says Daniel Cox, OSU professor of civil and construction engineering and former director of the O.H. Hinsdale Wave Research Laboratory, which includes the tsunami basin. "They really can identify with it." Watch a test run below:
This year, Prof. Cox  has had the ultimate up-close reality check–conducting tsunami research in Japan. He found at least one connection between the tsunami structure challenge and the Japanese tsunami disaster. The principal of Nakahama Elementary School, realizing his students had no time to evacuate to higher ground, guided everyone to the roof of the earthquake-resistant building just steps from the coast. All lived and were rescued.
Filed under: Architectural, Civil, e-News, Environmental, Explore Engineering, Ocean
Tags: Architectural, Civil, Classes, Environmental, Ocean