Posted on
February 1st, 2012
by axb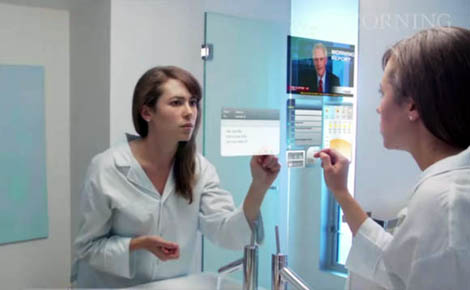 Last year, a conceptual, futuristic video featuring interactive glass touchscreens went viral:
This video, called "A Day Made of Glass," was created by Corning (a company that engineers glass and other materials) and now has been viewed over 17 million times on YouTube. Although the video is admittedly cool, just how realistic is its vision?
More so than one might think, if the recent debut of Samsung's Transparent Window LCD display is anything to go by. Rolled out at this year's CES conference in Las Vegas, the touchscreen display features HD, interactive widgets (including one that cleverly pulls animated "blinds" down over the window) and is also partially solar-powered.
Fans of Minority Report can rejoice, as it looks like another sci-fi technology concept may soon be brought into their living rooms.
Photo by Corning
Filed under: Computer, e-News, e-Videos, Materials