Posted on
January 19th, 2011
by jxh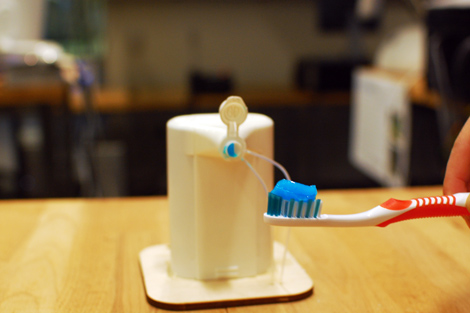 We all brush our teeth in the morning, but what if our toothpaste did more than just fight cavities?
Engineers at MIT's Media Lab are working on a prototype toothpaste called "Tastes Like Rain" that will tell you what the weather is like outside. They came up with the idea while working on super-mechanicals, the process of taking a basic object, such as toothpaste, and giving it dynamic properties.
The toothpaste works by dispensing one of three flavors, depending on the weather. A mint taste means it is colder outside than it was the day before. If the flavor is cinnamon, then it is hotter. And if the toothpaste has blue stripes, it is raining.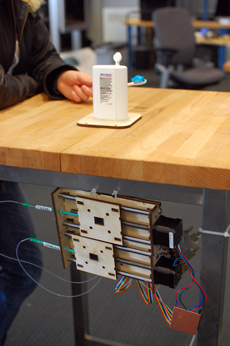 The prototype is currently hooked up to a small computer (see image on right) that uses custom software to compare current and previous temperatures and select the corresponding flavor. If the technology could be powered by a low-cell battery, however, then "Tastes Like Rain" could eventually be seen on store shelves next to Crest or Colgate.
Even if the technology is not a necessity – since people already can use weather apps on their phones and computers – it is certainly a fun idea and suggests that many other super-mechanical innovations will be designed in the future.
What kind of alternative uses would you like to see given to everyday products?
Images: MIT Media Lab
Filed under: Chemical, Computer, e-News, Mechanical
Tags: Chemical, Computer, Mechanical