Posted on
July 27th, 2010
by jxh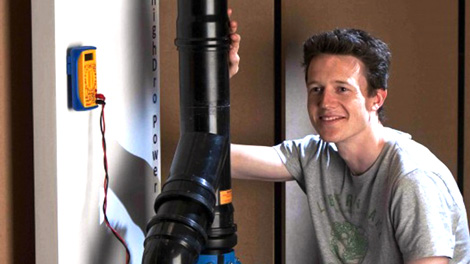 Bathrooms may dispose of waste, but they create it, too: The average person flushes the toilet five times a day, using between 8 and 35 gallons of water.  Not only that, but Americans each use about 50 pounds of toilet paper every year.
Now, thanks to Tom Broadbent, an industrial design graduate from De Montfort University in Leicester, UK, bathrooms may start impacting the environment in more positive ways by becoming power generators.
Called the "HighDro Power," Broadbent's design harvests energy from water discharged from showers, toilets, and sinks in high-rise apartments.
Employing the same principles as a hydroelectric dam, the falling water flows down a pipe, then hits four specially-designed turbine blades. Those blades power a single generator, which could save a seven-storey building more than $1,000 per year in energy costs.
Broadbent began working on his invention after the G8 Summit in 2008, when many governments including the United States announced their intention to reduce carbon dioxide emissions and dependency on fossil fuels by 2050.
After observing how a hotel bathtub drained — quickly, and with a large amount of force — Broadbent realized that such energy could be harnessed to create green electricity.
The HighDro Power is currently being considered for a James Dyson Award, as well as one from the Institution of Engineering Designers.
Image: De Montfort University
Filed under: Civil, e-News, Environmental, Mechanical, Trailblazers
Tags: Civil, Environmental, Mechanical