Posted on
August 27th, 2009
by als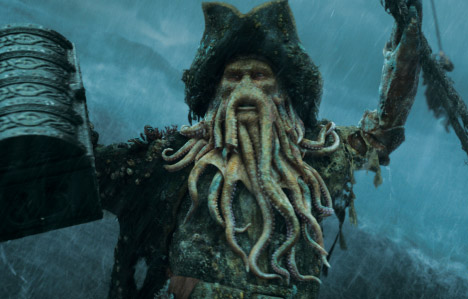 A software designer helped 'Pirates' come to life.
Watch this video on the making of visual effects for Pirates of the Carribean:

One of the key moments in the blockbuster movie Pirates of the Caribbean: At World's End was a battle between two ships in a raging ocean storm. The 15-minute scene featured a gigantic whirlpool and lots of lightning, waves, and spray. It wasn't the type of thing that could be faked in a neighborhood swimming pool or even on a Hollywood soundstage. So the directors came up with a solution:  They created the scene on a computer with software developed by Industrial Light & Magic, the special effects company created by George Lucas when he made the first Star Wars film in the 1970s.
Frank Petterson, a production technology supervisor at ILM, was a member of the team that developed the fluid simulation software. "I have always been interested in math and computers," he says. "I was your standard computer kid who got my first one when I was 4 or 5 years old."
Computer games piqued his interest in computer graphics, and he went on to get a Ph.D. in computer science at Stanford University. There, Petterson began to realize that working in movies offered a more creative outlet for his talents than developing games. Now, his specialty is designing software that can simulate water."Water is probably the most difficult special effect to do — tougher than smoke and fire," he says. "The reason is we all know what it looks like. We live around it. If you see water that looks wrong, you know it."
Petterson got his start in water simulation working on Poseidon, the 2006 film about survivors who fight to escape a sinking ship. "The visual-effects supervisor said, 'We need a giant ship to be hit by a giant wave and then turn over and sink. Can we do this? And how can we do this?'"  he recalls.
For his work on developing the fluid simulation software used on the Pirates movie, Petterson received an Academy Award for scientific and engineering achievement in 2008. He also worked on an important water scene for Harry Potter and the Half-Blood Prince.
"What I enjoy about my work is that it's artistic," Petterson says. "The tools that we use to generate the images aren't as important as the images themselves. Ultimately, I work for a company of artists — and I love it."
Watch this video on the making of 3D movies:
Filed under: Computer, Explore Engineering
Tags: Art, Computer, Technology