Posted on
June 1st, 2010
by jxh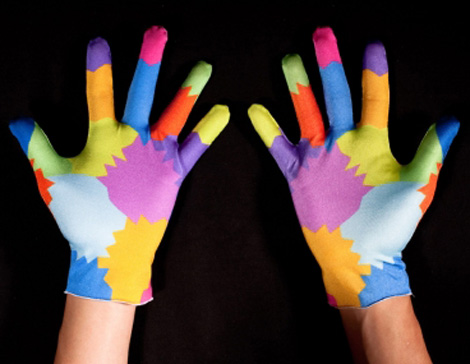 Gesture-based computer interfaces are finally within reach. MIT researchers have designed an easy to use system that involves a standard webcam and a multicolored Lycra glove.
The glove is covered with 20 irregularly shaped patches with 10 different colors so that the computer can distinguish the colors from each other and from background objects.
If two colors overlapped, the computer would not know which patch of color to respond to, so the placement of the patches prevent the same color from ever touching. For example, since the fingers might clench to make a fist, the colors on the tips of the fingers cannot be repeated on the palm of the hand.
The glove, which could be manufactured for only a dollar, can gauge the position of the hand in three dimensions with speed and precision, and since it is made from stretch Lycra, it can change size from one hand to the next.
For gamers, the technology would allow players to pick up and wield objects in a virtual world.   For engineers and designers, the system would allow 3-D models of commercial products or large civic structures to be manipulated.  And if the patterns were replicated onto shirts, whole-body information could be captured to evaluate the form of athletes or convert actors' live performances into digital animations.
Image: Jason Dorfman/CSAIL
Filed under: Civil, Computer, e-News
Tags: Civil, Computer, Technology, Video Games