Posted on
September 15th, 2009
by als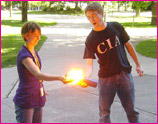 The Michigan Technological University Summer Youth Program (SYP) will introduce you to careers and allow you to develop new skills through laboratory, classroom, and field experiences. The program includes more than seventy one-week explorations, scheduled over multiple weeks. You may attend only one exploration per week, but can register for multiple weeks. A full schedule of weekend activities are planned for you if you are enrolled for consecutive weeks. Last summer, approximately 1,000 students attended SYP from all over the United States, Puerto Rico, Canada, Spain, Monocco, Austria and Columbia.
Explorations are an intensive week-long look at a particular field or area of interest and are offered in seven different categories designed to introduce you to a world of opportunities, including engineering, science, and computers. Explorations allow you to learn to program a video game, rappel a cliff, or perform diagnostic chemical tests. In other explorations you could paint a landscape, backpack through a scenic wilderness area, or cast molten metal. Each exploration is lead by a Michigan Tech faculty member, graduate student, or other specialist in that particular field.
You will spend approximately thirty hours investigating your area of interest through classroom activities, hands-on laboratory exercises, field trips, and discussions with your instructors and other students. The SYP curriculum offers over seventy sections of explorations, with the total enrollment limited to about 1,200 students.
1400 Townsend Drive
Alumni House
Houghton
MI, 49931
Contact: Kristi Isaacson
Grade Level: Middle School, High School
Discipline: Science, Engineering, Mathematics, Technology, Computers
Website: http://www.youthprograms.mtu.edu/
Filed under: Grades 6-8, Grades 9-12, K-12 Outreach Programs