Posted on
January 20th, 2010
by rxt
Dates:  June 13-19, 2010,  July 11-17, 2010, July 25-31, 2010. Online registration opens: Feb. 1, 2010; application deadline: April 15, 2010. Cost: $700
University of Illinois at Urbana-Champaign's
Exploring Your Options

(11-12)
&
Discover Engineering

(10)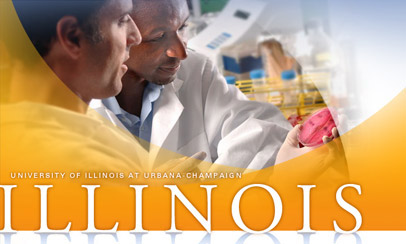 Exploring Your Options is a week-long residential program at University of Illinois at Urbana-Champaign that introduces high school rising juniors and seniors to the field of engineering.  Participants will interact with engineering students and faculty members, plan and build a project, and engage in hands-on activities prepared by departments within the College of Engineering.
• Session I — June 13-19, 2010  • Session II — July 11-17, 2010
Discover Engineering is a one-week residential camp for rising sophomores interested in math and science. Students will work on several projects that will incorporate different aspects of engineering.
• July 25-31, 2010
Application
• The total camp fee for 2009 is $700, which covers tuition, housing, meals, classes, lab materials, and all fees for camp activities.
• Beginning Feb. 1, 2010, please fill out the online application form and write a statement of purpose (200 words) describing your interest in science and engineering. Two letters of recommendation from science or math teachers should be mailed to the WYSE address below.
• Applications will be accepted beginning Feb. 1 and ending April 15. Applicants will be notified of admittance approximately May 10.
• Space is limited and applications will be judged competitively, based on quality of the statement of purpose, academic standing, and strength of the recommendation letters.
• It is the applicant's responsibility to make sure that all application materials are received before the deadline. Incomplete applications will not be considered.
• A deposit of $100 is due upon notification of acceptance into the program. Please do not send a deposit with the application materials.
•Limited scholarships are available based upon financial need. (Scholarships supported in part by Deere and Shell Corporation.)
Application deadline: complete application (including letters of recommendation and statement of purpose) must be received by 5:00 p.m. Central Daylight Time on April 15, 2010. Enrollment is limited to 40 spaces per session for Exploring Your Options and 30 spaces for Discover Engineering. Applicants will be notified of admittance by approximately May 10th. Submit the application on-line.
For further information, contact: WYSE, 210 Engineering Hall, 1308 West Green Street, Urbana, IL 61801; Phone: 800-843-5410 or 217-333-4454; Fax: 217-244-4974; Email: wyse@illinois.edu
Filed under: Grades 9-12, K-12 Outreach Programs
Tags: Engineering, Grades 9-12, Mathematics, Science, Summer Camps & Programs (Students)