Posted on
April 28th, 2010
by als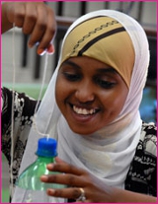 Where: Northland Pines High School, Eagle River, Wisconsin. Grade Level: 6-8
Parents, teachers, businesses and community groups in Eagle River, Wisconsin are collaborating with the SME Education Foundation and partner Project Lead The Way (PLTW) in bringing the Gateway Academy and its world of engineering summer camps to Northland Pines High School.
The co-ed, weeklong Gateway Academy program introduces 6th – 8th grade students to the basics of engineering in a fun and exciting environment. PLTW-certified instructors lead students in projects and activities related to engineering disciplines. Students brainstorm ideas, solve problems and learn the basics of engineering concepts involving alternative energy, eco-design, robotics, aerodynamics and manufacturing in a hands-on, project-based environment.
The Foundation and PLTW are dedicated to filling the pipeline with highly-trained and skilled workers to meet the demands of emerging technologies in the next ten years. In 2009, the SME Education Foundation held 237 Gateway Academies and reached over 4,800 students in 28 states. Their goal is to increase to 300 Gateway Academies in 2010. For more information about the Gateway Academy program, contact Project Lead The Way.
For more information on this specific Gateway Academy, contact Scott Foster, principal, Northland Pines High School, Eagle River, Wis. (715) 479-4473, ext. 2013, sfoster@npsd.K12.wi.us or Lance Schultz, technology & engineering instructor, Northland Pines High School, Eagle River, Wis. (715) 479-4473, ext. 0601, laschultz@npsd.K12.wi.us
More on the Gateway Academies and related programs can be found here.
About the SME Education Foundation
Created by the Society of Manufacturing Engineers in 1979, the SME Education Foundation has provided more than $29 million since 1980 in grants, scholarships and awards through its partnerships with corporations, organizations, foundations, and individual donors. Visit www.smeef.org and award-winning Website for young people www.ManufacturingisCool.com for more.
Filed under: Grades 6-8, K-12 Outreach Programs
Tags: Grades 6-8, K-12 Outreach Programs