Posted on
December 16th, 2010
by axb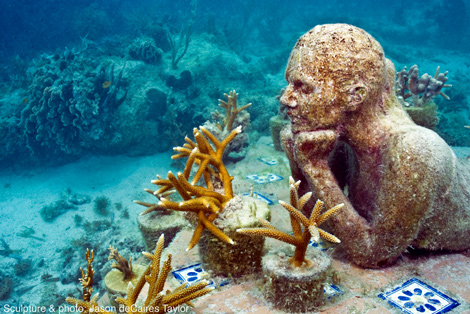 Every once in a while, a project comes along that, in addition to bridging the gap between art and science, also manages to leave you completely awestruck. Such is the case with the haunting and surreal underwater sculpture of Jason deCaires Taylor, a Mexico-based artist and scuba diver.
After spending much of his childhood in Malaysia near its famous coral reefs, Taylor developed a profound attachment to the ocean and its diverse inhabitants. He was later inspired to combine his love of the sub-aquatic world with his training in ceramics and stone carving, ultimately producing a series of stunning underwater installations across the globe.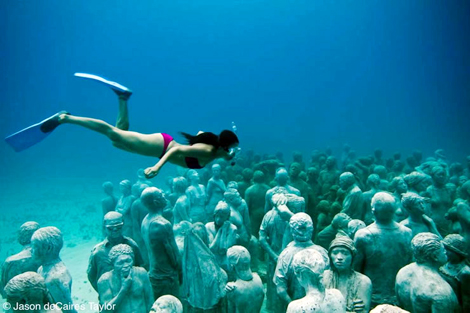 But the beauty of these works goes beyond the aesthetic. Taylor's statues not only provide scuba divers a type of underwater museum, but also, more importantly, work to restore coral reef growth and local biodiversity.
His latest project, The Silent Evolution, consists of over 400 figures made of a pH-neutral concrete. Placed in the clear waters of Cancun, Mexico, this group of statues will provide a rich environment for marine life to flourish while also easing the pressures of tourist traffic on other local reefs.
Here's a video of the site, which officially opened November 27th, 2010:
Installing such a large-scale project – The Silent Evolution spans about 4,500 sq feet and weighs an incredible 198 tons – takes a lot of careful coordination and engineering. Sites must be scouted, sand beds leveled, and statues lowered using cranes and other construction equipment. Once they enter the water, flotation bags are attached to the pieces so that they can be precisely maneuvered and placed. This detailed operation takes a total of about 15 people to perform – 10 crew and engineers out of water and 5 divers.
The beginning of this video shows brief parts of the installation process at Isla Mujeres, near Cancun:
After the sculptures have been placed, the works are then propagated with live coral from nearby endangered reefs. Small holes are also drilled into some of the figures to encourage creatures like lobsters and blennies to make a home inside them. To ensure his statues will successfully support sea life, Taylor collaborated with several marine biologists from both Mexico and the U.S. These scientists also helped him choose sites that are most conducive to coral growth.
This video shows the natural changes that have occurred over the past few year at the sites of his sculptures in Granada and the UK, installed in 2007:
Coral reefs, known as the "rainforests of the sea," are amazingly rich environments that are home to about a quarter of Earth's marine species. Though scientists have predicted that almost 80% of the world's coral population will be depleted by the year 2050, projects such as Taylor's give hope that with hard work and ingenuity, humans may be able to help save these precious ecosystems.
Says Taylor of his art, "You can use sculpture as a way to convey hope, inspiring people to consider their interactions with the natural world and build a sustainable future." So far, it seems as though his work is doing just that.
Here's a recent interview with the artist from a British television show:
For more information about saving the world's coral reefs, please check out the Coral Reef Alliance.
Images courtesy of Jason deCaires Taylor