Posted on
April 9th, 2010
by als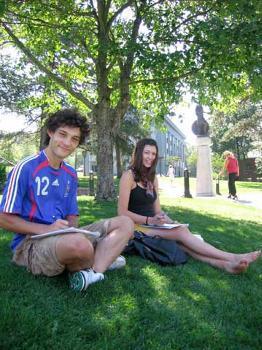 Dates: June 27-July 1, 2010. Level: Grades 11 and 12. Location: Alfred University, New York. Cost: $795. Application Deadline: April 16, 2010
2010 Summer Institute in Engineering: Engineering the Elements – Polymers and Electronic Ceramics
The Program: This exciting residential program is an opportunity to learn more about engineering, to sample life on a college campus and to meet other students with similar interests and academic ability. Students will participate in hands-on lab experiences focusing on polymers and electronic ceramics.
Polymers, both natural and synthetic, have unique properties based on their chemistry and physics.
Understand how the absorbency of diapers relates to contact lenses and environmental cleanup while quantifying and modeling the water uptake.
Experience the extreme variability of polymer viscosity via student-created slime and consider the effects of viscosity from "molasses in January" to personal armor protection.
Electronic ceramics, aka "solid state" electronics are fundamental to 21st-century life.
Get a good vibe from ceramics by building a piezoelectric buzzer and understanding the interrelationship of ceramics to speakers, headphones and sonar (bat, dolphin, & naval).
See how mundane processes like screen printing are applied to high end electronics by building your own touch pack. Check out the hidden electronic insides of consumer products: computers, MP3 players, hard drives, Xbox, etc.
As a concluding activity we'll use cryogenic temperatures to illustrate some key concepts from chemistry & engineering, e.g., to break rubber and make ice cream.
Who Can Attend? This dynamic camp is designed for high school students who have completed their sophomore or junior years, The number of participants is kept small (20-25) to allow for individualized attention and optimal use of equipment.
Schedule: Students attend classes during the day and enjoy recreational activities in the evening. Living, dining and learning together, students have ample opportunity to get to know each other well and develop lasting friendships. View a sample weekly schedule >>>
Further information, including a detailed program schedule and driving directions to campus, will be sent to all students upon acceptance.
Faculty: Classes are taught by distinguished faculty of Alfred University's Inamori School of Engineering, assisted by advanced AU graduate students. Dr. Steve Pilgrim, professor of Materials Science and Engineering, and Dr. Walter Schulze, professor of Ceramic Engineering and Materials Science, are Co-Directors of this institute and will serve as the primary instructors.
Activities: When not in classes, students have lots of fun participating in recreational activities. Living, dining and learning together, students have ample opportunity to get to know each other and develop lasting friendships. Sample activities include:
Indoor and outdoor games
Movies
Visits to a nearby lake for a picnic or campfire
Swimming
Hikes
Hayrides
Social gatherings at the Terra Cotta Coffee House
A farewell party on the last night
Supervision: Out-of-class supervision is provided by our team of Resident Directors (RDs) and Resident Assistants (RAs), who are specially trained to serve as camp counselors, positive role models, mentors and friends.
Tuition, Room and Board: The institute fee is $795* (includes a $100 deposit). This covers room and board from dinner on the first day through lunch on the last day, tuition, supervision, program materials and recreational activities. Students stay in residence halls (2 per room). Students must provide their own pillows and bed/bath linens for the week. Meals are served in the campus dining hall.
The $100 deposit must be submitted with the application. Full payment of the balance ($695) is due May 28, 2010. Each participant is responsible for transportation, incidentals and extra nights or meals. If, for any reason, a participant must be sent home early, all expenses will be paid by the student/parents.
*There will be a $30 charge for checks returned for insufficient funds.
How to Apply
Students who wish to apply must return:
A completed application form
Copy of an up-to-date transcript or most recent report card
Two letters of recommendation from H.S. teachers (on official school stationery)
A one-page essay telling us why you would like to attend this institute (in your own words, with your signature at the bottom)
A $100 deposit (non-refundable unless student is not accepted into the program).
Application materials must be submitted by April 16. (Later applications may be considered only if space is available. Please call 607-871-2612 to check availability after the deadline.)
Send to: Office of Summer Programs, Alfred University, Saxon Drive, Alfred, NY 14802 or fax to 607.871.2045. Please send all items in one packet. Incomplete or illegible applications cannot be considered. (If you fax the application form and materials, please call us at 607.871.2612 to make sure we receive them and that all is readable.)
Cancellation Policy
Refunds, less the $100 non-refundable deposit, will be made for cancellations received by June 4. 50% refunds will be made for cancellations received from June 5-18. We cannot make refunds to students who cancel after June 18 because we must hire staff, purchase materials, arrange for meals and confirm classroom and housing space long before the start of our summer programs. We base all of these arrangements on the number of students accepted into each camp or institute and cannot make changes after contracts are signed and commitments are made.
Financial Aid
Sorry, there are no scholarships or other forms of financial aid available for students in any of our summer programs.
Questions?
For further general information contact the Office of Summer Programs at 607.871.2612. A copy of the institute application is available in pdf form at application. If you are not able to open it, please contact us and we will send or fax one to you.
For specific information concerning class content, please contact Institute Directors Dr. Steve Pilgrim at 607.871.2431 (email), or Dr. Walter Schulze at 607.871.2471 (email).
View AU Summer Institutes Video >>>
For more information, please visit http://www.alfred.edu/summer/camps/science.cfm.
Filed under: Grades 9-12, K-12 Outreach Programs