Posted on
July 14th, 2011
by axb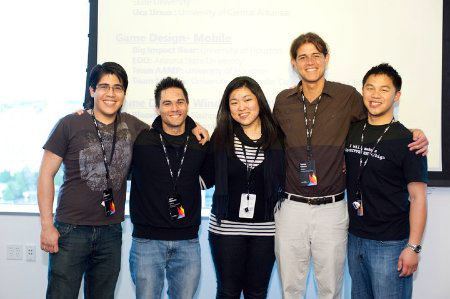 A mosquito-blasting laser gun is a sensible weapon for fighting malaria — but a smartphone? Turns out that high-def touchscreen might be good for more than video chatting and slinging angry birds.
Five graduate students have designed a smartphone app for the 2011 Imagine Cup that will allow doctors to quickly and accurately diagnose malaria. It works by analyzing data from the phone's camera – which has been outfitted with a microscopic lens – to determine whether malarial parasites are present in blood samples. The team won second place in the Imagine Cup Software Design National Finals.
Lifelens, as the project is called, could be especially useful in Sub-Saharan Africa, where malaria kills thousands of children every day. The only malaria tests given in this region consist of cotton swabs that change color when in contact with infected blood, although this method results in about a 60% incidence of false positives. Because of its unreliability, billions of dollars are wasted every year medicating those who aren't sick.
Through sharp digital photography and a robust image-analyzing algorithm, Lifelens promises to more accurately assess blood samples so that malaria medication can be delivered to more people in need of it. Modern GPS will even allow health workers to pinpoint the exact location of each infection and track disease trends, so that patients can be treated more rapidly.
Currently Lifelens is being field tested, and the team is looking forward to collaborating with Harvard labs to further develop the project. Future possibilities include detecting other blood-bourne illnesses, like sickle cell anemia.
Here's a great interview with Lifelens software developer Tristan Gibeau, a computer engineering student at the University of Central Florida:
A video presentation of the project:
Image:
Lifelens
Filed under: Biomedical, Computer, e-News
Tags: Biomedical, Computer