Posted on
August 31st, 2011
by axb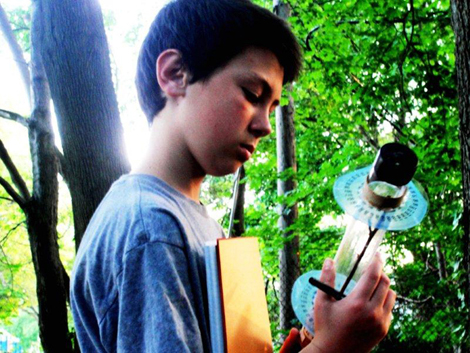 On a hike through the Catskill Mountains in New York, seventh-grader Aidan Dwyer noticed that the branches of oak trees seemed to grow in a certain pattern. Inspired to try his hand at biomimicry, he created a tree-like arrangement of small solar panels capable of generating 20-50% more energy than traditional flat designs.
Dwyer's solar tree is based on a mathematical concept called the Fibonacci sequence, which was discovered in the late middle ages. The sequence of numbers (0, 1, 1, 2, 3, 5, 8, 13, 21, 34…) involves adding the last two numbers together to get the next one. The pattern has been observed in many places throughout the natural world (from broccoli florets to the the interior of nautilus shells), and is thought to help tree leaves maximize their absorption of sunlight.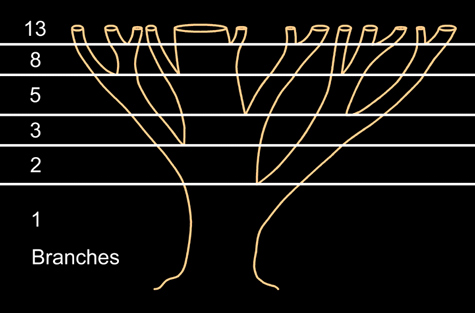 Tree branch growth following the Fibonacci number sequence
Using the sequence as a guide, Dwyer designed and built his own test model of a tree-like solar panel arrangement using PVC pipes. He also built a traditional array of miniature rooftop panels to use for comparison of energy generation. He measured their performances with a data logger, worked in and isolated variables, and compared the results. Just like a tree with leaves acting as nature's solar panels, Dwyer's solar sapling came out on top.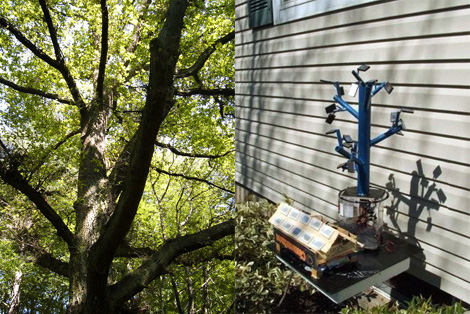 An oak tree (L) and Dwyer's experimental designs (R)
Dwyer's design earned him the American Museum of Natural History's Young Naturalist Award and a provisional patent. As he points out at the end of his prizewinning paper, vertical, tree-like solar arrays take up less space than traditional flat panels, are less impacted by rain and snow, and could be ideally suited to urban spaces.
Images:
American Museum of Natural History
Filed under: e-News, Environmental
Tags: Biomimicry, Energy, Environmental, Green Technology, Solar