Posted on
July 7th, 2010
by jxh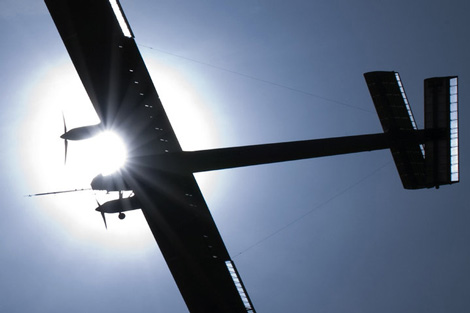 We previously reported that the world's first solar-powered blimp is planning to cross the English Channel.
Now, Swiss pilot André Borscherg is attempting the world's first manned 24-hour flight in a solar-powered aircraft, which began this morning when he took off in the Solar Impulse HB-SIA.
The plane, which is equipped with 12,000 solar cells on its wings, will attempt to fly both during the light of day and the dark of night. If this mission is successful, it will be the longest and highest flight ever made by a solar plane.
The Impulse took seven years to develop, and with a 208-foot wingspan and the weight of a medium-sized car, it is only slightly larger than an average glider.
The solar cells on the plane feed four electric engines and recharge lithium batteries stored underneath the wings.  The plane will charge its batteries all day, soaking up the sun's rays in preparation for the night flight.
Borscherg hopes to ascend up to an altitude of 26,000 feet during the day, flying at about 44 miles per hour, and then descend back down to 5,000 feet during the night.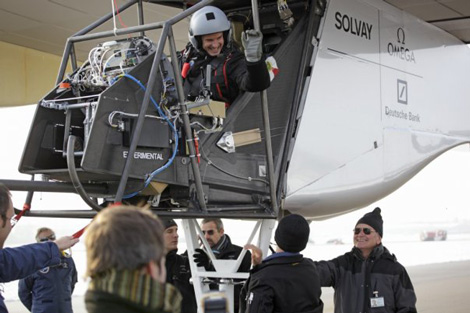 Because the plane needs to be piloted at all times, Borscherg has to stay awake all night –and without a lot of wiggle-room in the tiny cockpit.
He's been practicing yoga and breathing exercises to help him stay relaxed and keep his blood flowing during the flight.
As CEO and co-founder of the Solar Impulse project, Borscherg hopes this flight will be a stepping stone to much longer flights without fuel.
He plans next to undertake a transatlantic flight and then a round-the-world flight, with multiple stops, in 2013.
Update: The flight was a success and stayed in the air for over 26 hours! Click here to read more.
Images: Solar Impulse
Filed under: Aerospace, e-News, Mechanical, Transportation
Tags: Aerospace, Green Technology, Green Transportation, Mechanical, Transportation