Posted on
June 23rd, 2010
by jxh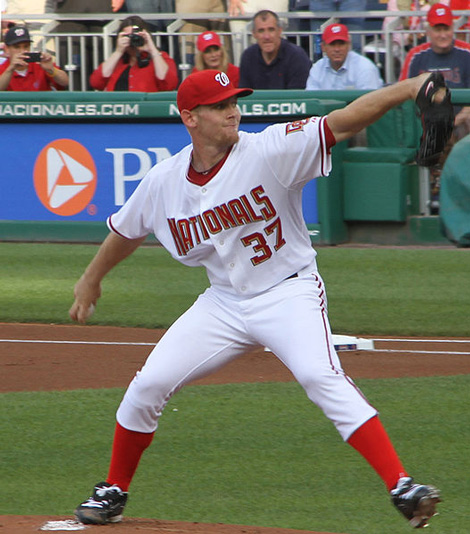 Stephen Strasburg pitching in his major league debut (dbking/Flickr)
Of the 161 injured players in Major League Baseball, 94 are pitchers.  It's no surprise: Pitchers can work up unbelievable speeds when they throw, like Stephen Strasburg, who threw 101 mph with his fastball and pitched 14 strikeouts in his debut with the Washington Nationals.
However, when pitchers begin throwing inconsistently, due to fatigue or poor technique, they are susceptible to physical harm and can tear a ligament or hurt their shoulder.
Such injuries can ruin a pitcher's career, such as Hall of Famer Don Drysdale, whose pitching career was cut short by a bad rotator cuff injury.  These can also cost MLB teams as much as $54 million per year in salary losses.
That is why three engineering students at Northeastern University created a "data-logging" compression shirt that can track pitching mechanics during a game in real time.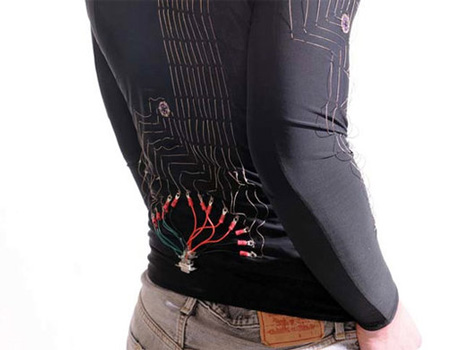 Data-logging baseball shirt (Ecouterre)
The students embedded motion sensors on the forearm, back, and bicep areas of the shirt and powered the sensors with conductive threads that are also embedded in the fabric.
The sensors are linked to a software program that records acceleration and movement of the pitching arm, data that can be made accessible for coaches to monitor in the dugout.
Before the design of this smart compression shirt, pitchers had to perform in a lab for their movements to be analyzed.  Now coaches can know immediately when a pitcher is in danger of injury.
Three MLB teams have already shown interest and contacted the students, who are in the process of developing a completely wireless prototype.
Filed under: e-News, Mechanical
Tags: Mechanical, Sports