Posted on
April 28th, 2014
by Mary Lord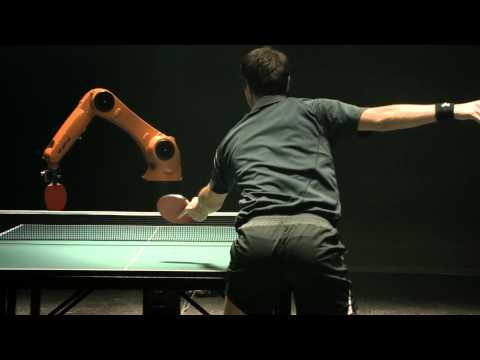 In the man-against-machine smackdown, humans remain ahead. But for how long?
John Henry, the legendary "steel drivin' man" of the famous folk song, died with a hammer in his hand trying to beat a steam-driven rail-laying machine.
Now comes World Table Tennis champion Timo Boll, matching wits against "the fastest robot on Earth." Built by Kuka, a German robotics company, the 114-pound, six-axis Agilus arm quickly racked up a 6-0 lead. But Boll, currently the fifth best player in the world, ultimately prevailed.
His secret? Strategically placed, impossible to reach shots.
Are you faster than Timo? Find out by playing against him in Kuka's online game.
In a rematch, Timo and the Agilus robotic arm squared off over musical glasses.
Filed under: e-News, e-Videos, Industrial / Manufacturing
Tags: Industrial / Manufacturing, industrial engineering, man v machine, Mechanical Engineering, ping pong, Robotics, table tennis, Timo Boll