Posted on
January 29th, 2010
by jxh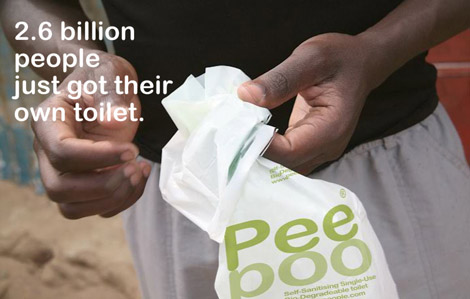 Every 15 seconds, one child in the world dies due to contaminated water. This is because approximately 2.6 billion people lack sanitation.
To combat this issue, the revolutionary Peepoo bag was designed to provide people in developing countries with their own portable toilet. The Peepoo bag can be used sitting, squatting, or standing, and can be placed in a small bucket or simply held in your hand (a thin gauze prevents contamination). The bag is clean to handle and remains odor-free for at least 24 hours, making it possible to store in the immediate environment, as well as bury underground.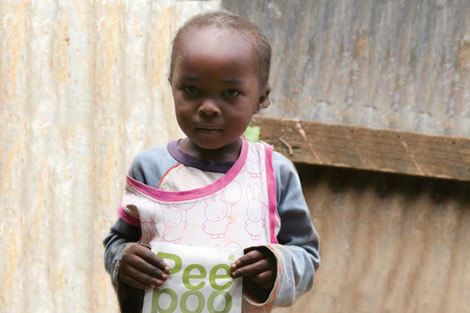 What makes the Peepoo bag especially significant is that within two to four weeks, the contents of the bag will naturally decompose, turning waste into high-quality fertilizer. It is made of a degradable bioplastic that disintegrates and breaks down the molecules into carbon dioxide, water and bio-mass.
The Peepoo bag is scheduled to be ready for production this summer and will be manufactured inexpensively,  so that even people in the poorest nations can afford it. Peepoo is one of the few sanitation solutions that does not require any water (although it is recommended that you wash your hands after use), which gives it the potential to hugely impact those living in the world's most needy communities.
Images from Camilla Wirseen/Peepoople, courtesy of the Peepoo website
Filed under: e-News, Environmental, Materials
Tags: Environmental, Giving Back, Materials