Posted on
February 10th, 2010
by axb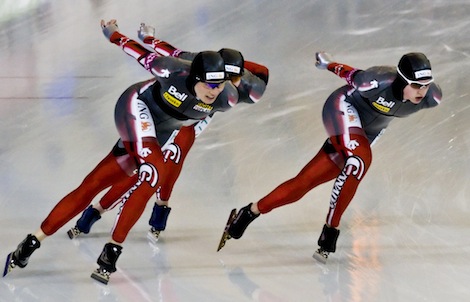 Every two years we get to marvel at the speed, skill and artistry of the world's top athletes and watch increasingly lavish opening and closing ceremonies, yet few of us ponder the work that goes on behind the scenes at the Olympic Games. In a recent post on her engineering education blog, Celeste Baine estimates that there were about 4,000 engineers involved in the 2008 Beijing Olympics, doing things like planning the pyrotechnics of the torch lighting and creating the fastest and most efficient running shoe.
Her book High-Tech Hotshots: Careers in Sport Engineering details more about what an engineer with a passion for sports can do, and she gives this handy overview on her blog:
"Being a sports engineer is highly creative and there is no one engineering degree that is better suited than another. For example, many sports require helmets. The most common engineers that work on helmet design are:
Mechanical engineers – may design systems for manufacturing, motion analysis or impact testing. May also be involved in building and testing prototypes;
Biomedical engineers – may design systems to analyze the human body wearing the helmet for neck and spine injury prevention. May research the motion of many sports to determine the requirements for helmet design;
Chemical or Materials Engineers – may work to develop or design new light weight materials that will be more comfortable and withstand greater impacts or forces;
Manufacturing engineers – may design systems or processes for manufacturing helmets more efficiently;
Computer engineers – may design software or hardware to aid in pressure or impact detection analysis, manufacturing processes or information systems;
Industrial engineers – may maintain bills of materials and routings information, cost standards and recommend pricing for new products. May also be involved in training certain manufacturing techniques.
A passion for a particular sport and a degree in engineering can take you places you may have never imagined – possibly the front row of an Olympic event!"
To see more about what type of thinking goes into making sports equipment, check out this video from NBC and the National Science Foundation, about the science of skates:
There are more Olympics videos here.
To find out more about what engineers have done to improve speed skating equipment, check out this cool story.
Image: adrian8_8/Flickr
Filed under: Biomedical, Chemical, Computer, e-News, Industrial / Manufacturing, Materials, Mechanical