Kicking off with a songfest and building up to a huge expo with 1,500 exhibits and activities on the National Mall, the two-week series of events at the USA Science and Engineering Festival is an Oktoberfest of the mind.



New data from the ACT college entrance exam reveal that it may be quite a challenge to meet the goal to prepare all U.S. high school students for college or careers. Only 24 percent of this year's senior class scored high enough on the ACT in math, English, reading, and science to ensure they could handle those subjects as university freshmen.
HELLO FACEBOOK!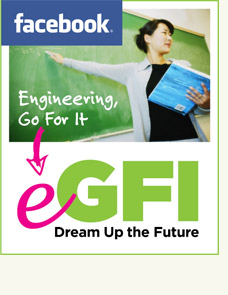 Join Our Page

Attention, teachers: We've just launched a new Facebook page called Teach K-12 Engineering with eGFI! On it you'll find more lesson plans, class activities, feature stories, and K-12 education news. Check it out and tell us what you think!
Learn More