Posted on
November 11th, 2010
by jxh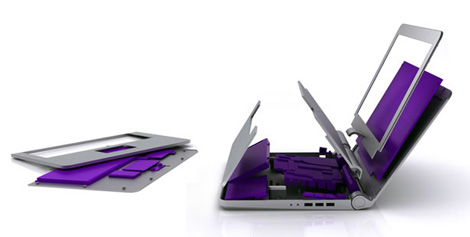 Recycling is extremely important because it reuses materials, reducing waste and pollution, and keeping our planet clean.
Many laptops contain recyclable components, including precious metals such as platinum. However, those components are usually melded together in such a way that no ordinary person could safely deconstruct them.
That is why a group of grad students from Stanford University designed the Bloom laptop, which can be disassembled for recycling in just two minutes without any tools.
The ease of disassembly also makes the laptop easier to repair the laptop and to upgrade components over the lifetime of the product.
The students, who often used Autodesk Inventor software while experimenting with their design, won October's Autodesk Inventor of the Month award.
Check out this interview with one member of the Stanford team and animations of their design:
Image: Autodesk
Filed under: Computer, e-News, Environmental
Tags: Computer, Environmental