Posted on
June 23rd, 2014
by Mary Lord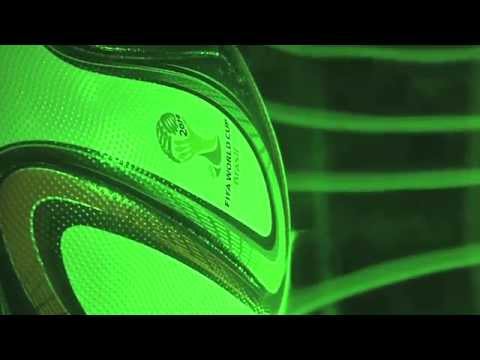 Count NASA engineers among the soccer fans following the 2014 FIFA World Cup tournament in Brazil this summer. They're not only students of "the beautiful game" but also of the technologies that give players their edge.
Take the Brazuca ball developed by Adidas for this year's tournament , which NASA engineers tested in a wind tunnel and water channel with fluorescent dye to explore its aerodynamic properties.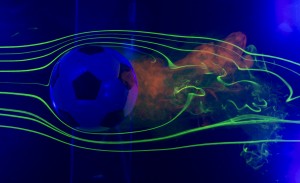 Air doesn't flow smoothly around a sphere. As Rabi Mehta, chief of the Experimental Aero-Physics branch at NASA's Ames Reserach Center in California explains, "there is a thin layer of air that forms near the ball's surface called the boundary layer and it is the state and behavior of that layer that is critical to the performance of the ball."  A ball's roundness, surface roughness, and materials all determine its aerodynamics.
Traditional soccer balls have 32 hexagonal panels – but as NPR reported,  there are no rules determining the number of panels. In 2006, Adidas started making rounder World Cup footballs with fewer panels. The Jabulani used in the 2010 World Cup in South Africa had just eight.
Players noticed the difference immediately. The Jabulani curved unpredictably, or knuckled, when kicked with little or no spin.  Strikers loved it, but the ball's erratic swerves meant trouble for goalkeepers.
The smoother a ball's surface, the higher the speed at which it knuckles. Tests in NASA's wind tunnel and a 17-inch water channel, which uses florescent dye dispensed into the fluid flow under black lights, shows that the speed of greatest knuckling for a traditional ball is around 30 miles per hour. The typical World Cup kicking speed is about 50 to 55 mph, precisely the speed of the Jabulani's greatest knuckling.
The six-panel Brazuca's rougher surface reduces the critical knuckling speed to about 30 mph, NASA's engineers found.  So it should have a more predictable flight path at typical striking speeds. Predicted Mehta: "It is more stable in flight and will handle more like a traditional 32-panel ball."
Photo credits: NASA Ames Reseach Center
Filed under: Aerospace, e-News, Explore Engineering
Tags: aerodynamics, Aerospace, Ames Research Center, ball, Brazil, Brazuca, fluid dynamics, NASA, soccer, Sports, Technology, World Cup