Posted on
July 6th, 2010
by jxh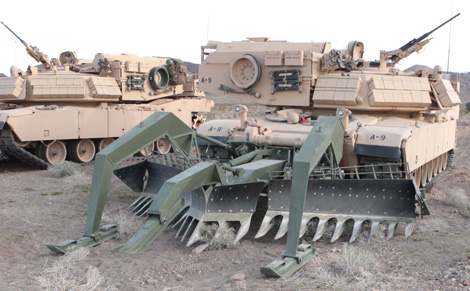 Improvised explosive devices (IEDs), also known as roadside bombs, are the deadliest threat facing U.S. troops in the Afghanistan War and they are the weapon of choice for many insurgent groups.
The number or IEDs used in Afghanistan have increased by 400 percent since 2007, and IEDs are responsible for 50-75 percent of the more than 6,000 American soldiers who have been wounded in Afghanistan.
In January, military experts reported that Taliban fighters have developed new bombs that are almost undetectable because they lack any metal or electronic devices.
To better protect U.S. troops from IEDs, civilian mechanics at the Anniston Army Depot in Alabama have built the Assault Breacher Vehicle – a 64-ton tank nicknamed "the Shredder."
In designing the tank, they attached a 12-foot, 5,000 pound plow onto a MIAI Abrams battle tank. The sharp teeth on the plow can dig up to seven inches into the ground at 10 miles per hour, exposing any buried IEDs or land mines.
The Assault Breacher is also equipped with a Mine Clearing Line Charge that can blast roadside bombs out of existence and clear a safe path for soldiers to travel.
The line charge consists of a nylon rope that carries 1,750 pounds of C4 explosives and can be launched to distances of over 300 feet.
In addition, the tank is outfitted with a .50-caliber machine gun and reactive armor to protect against high explosive anti-tank weapons.  The entire vehicle can also be operated remotely, allowing soldiers to avoid any danger.
The Marine Corps plan to field 52 of the tanks by 2012 and the Army wants to buy 187. Each one costs $3.7 million and 34 have already been produced, which will hopefully increase the survival-rate of U.S. troops fighting in the war.
Images: United States Marine Corps
Filed under: e-News, Mechanical, Transportation
Tags: Defense, Mechanical, Military, Transportation