Posted on
November 22nd, 2011
by als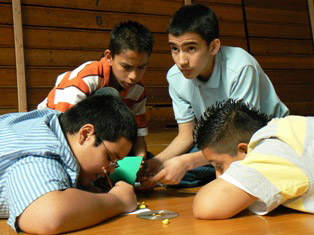 Mathematics, Engineering, Science Achievement (MESA) is a university-based outreach program operating in eight states. MESA strives to provide an opportunity for ethnic minority, low income, and first generation college-bound students to explore college majors and career interests with a group of peers interested in attending college.
The California State University, Fresno MESA Schools Program was established in 1980. The overall goal of the MESA Schools Program at California State University, Fresno is to motivate and prepare disadvantaged students, especially those from underserved population, with the knowledge and skills that will enhance their interest and prepare them for professions requiring degrees in engineering, and other mathematics and science-based fields.

CSU Fresno MESA program services include enriched math and science classes, intensive academic summer programs, career exploration in STEM fields, field trips to colleges and industry-related sites, assistance with college applications for admissions and financial aid, PSAT and SAT Prep, transcript reviews, scholarships, student and parent leadership training and professional development for MESA teachers. The core of the program encompasses rich hands-on, project-based learning with an emphasis on STEM subjects. Many of the MESA hands-on activities are team oriented and competition based.
Contact:
California State University, Fresno
MESA Schools Program
2220 East San Ramon Avenue, M/S EE94
Fresno, California 93740-8028
Phone: 559.278.2976
Fax: 559.278.4517
Filed under: Grades 6-8, Grades 9-12, K-12 Outreach Programs