Posted on
May 12th, 2010
by als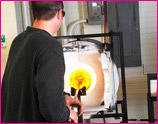 Dates: July 25-30, 2010. Level: Grades 11 and 12. Location: Missouri University of Science and Technology, Rolla, MO. Cost: Free. Application Deadline: May 31, 2010.
The one-week ASM Materials camp offers rising junior and senior high school students with an aptitude for math and science interested an opportunity to learn about the field of materials science and engineering, and opportunities for careers.
Students actively explore materials science and engineering principles through a combination of mini-demonstrations, field trips, and group projects. Past projects have included microelectronic circuitry, friction-stir welding, ceramic magnets, metal casting, glass processing, heat treatment and mechanical property evaluation, plasma-spray deposition and others.
Activities include:
Group projects
Visits to labs and local industries
Guest presentations
Design-build contests
Eligibility: Participants must be rising high school juniors and seniors in Fall 2010. Acceptance to this camp is selective. Students should have a strong interest in applied science.
Fees & Registration: Participation is FREE; however, students must apply and be accepted into the camp. The camp will cover room and board, meals, educational materials and activities. The only expense is travel to and from Rolla, and incidentals throughout the week.
Application Process: Application Deadline is May 31, 2010.
To apply, please submit the following:
APPLICATION FORM (downloadable pdf)
School Transcript – Unofficial transcript is OK
Maximum of two (2) letters of recommendation
Personal essay of 200 words or more that states why you want to be selected to participate in Materials Camp. Please include your planned college major and career plans. Essay can be included in your online application.
Submit all information to (via email, fax OR snail mail):
Jeane Deatherage
ASM Materials Education Foundation, Materials Park, OH 44073
jeane.deatherage@asminternational.org; FAX 440/338-4634
For more information about ASM Materials Camp and how to apply, please visit the Website or http://mse.mst.edu/academic/programs.
How are student selected?
This is a competitive application process. Students are asked to describe why they want to learn more about engineering and materials science as a possible college major and career.
Each application will be reviewed to select the "best and brightest" — highly motivated students who have not yet made a firm decision about a college major or career.
Students must have a strong interest in applied science. Prior participation in science fairs is helpful.
What will I do?

Have fun. Our number one goal is to make applied science an exciting, fun experience.
Solve a technical problem. Students work in small groups to investigate various aspects and applications of engineering metals and ceramics.
Learn to use state-of-the-art research equipment in an engineering laboratory under the guidance of experts.
Visit several materials-related industries.
Transportation: Participants must provide their own transportation to and from Missouri S&T. University transportation will be provided to and from Lambert-St. Louis International Airport for out-of-state participants.
Cancellation Policy: Missouri S&T reserves the right to cancel any program in the event of insufficient registrations, severe weather or natural disaster. In the event of cancellation, registrants will be notified immediately via email and phone, and all fees will be returned in full. Persons wishing to cancel their registration must do so one week (7 full days) prior to the first day of their chosen program. No refunds will be made after this date.
Registration Contact: Dr. Ron Kohser, Materials Science & Engineering, 224 McNutt Hall, 1400 N Bishop Ave, Rolla, MO 65409; Phone: 573-341-4734 ; Fax: 573-341-6934; E-mail: rkohser@mst.edu
Filed under: Grades 9-12, K-12 Outreach Programs