Posted on
June 27th, 2014
by Mary Lord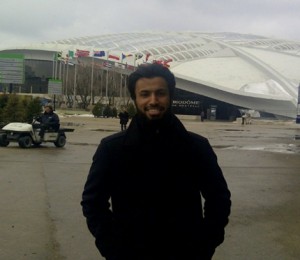 His father's words about bringing light to the family farm inspired Ahmed Almansour to study electrical engineering.
Here is the University of British Columbia student's story, written for the blog competition that forms the first assignment in instructor Annette Berndt's Technical Communication course.
My father and I used to go to our farm once a month from the time I was 6 years old.
Our farm was about 80 km away from the house where we lived in the city. Back then, the farm had no electricity and we had to go home as soon as the sun set because of the darkness. The farm was very far from the road, so providing electricity was expensive.
I always asked my father why we did not have lights in the farm and his reply was: "When you grow up, you will bring light to the place."
My father's words have always been the inspiration to keep me strong and persistent as I work toward achieving my dream of becoming an electrical engineer.
NASA shows the Earth at night from space:
Can you imagine life without electricity? Life would be hard and miserable, since almost all new technologies need power to work.
Still, people in some poor countries live in darkness and are in need of very basic electrical equipment.  Because of poverty, they have to use some old ways to warm their homes in winter and find their way while walking in the darkness.
Seeing people suffer hardships makes me think of ways to improve their lives. Studying electrical engineering will help you figure out a solution to this problem.
Generating electricity is the process of transferring energy from electric-power utilities through strong cables, which can stay stable for decades. Houses and buildings are then connected to those power sources.  This process requires planning and designing, and that is why we need electrical engineers.  Maybe you'd like to join us!
Filed under: e-News, Electrical, Explore Engineering, Meet More Students
Tags: Ahmed Almansour, Electrical Engineering, Electricity, lights, power, University of British Columbia