Posted on
May 26th, 2010
by axb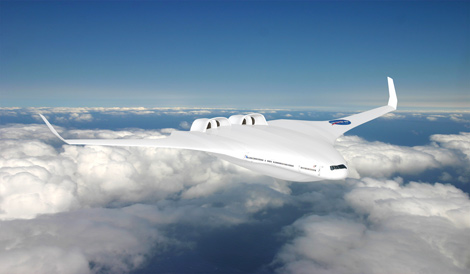 A D-series supersonic jet from MIT (MIT/Aurora Flight Sciences)
In the next three decades, air traffic is predicted to double, which will require a lot of fuel and potentially increase harmful emissions.
To combat this, NASA challenged six different research groups to radically redesign the passenger aircraft in order to increase fuel efficiency, lower emissions, and allow planes to take off on shorter runways.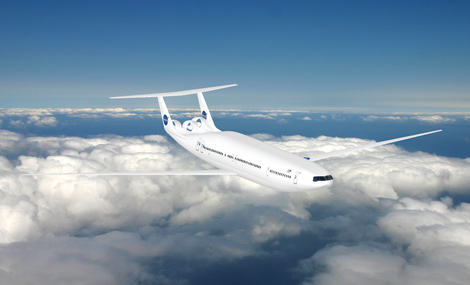 The D-series commercial aircraft (MIT/Aurora Flight Sciences)
One of these teams was a group of researchers from MIT. Last week they unveiled their D-series plane. It uses 70% less fuel than traditional aircraft because it has thinner, longer wings, a smaller tail, and an engine located at the rear of the plane instead of on the wings. In addition, the D-series is shaped differently than its predecessors. Two long, tubes form the body of the plane, instead of the conventional single fuselage. That tubular design is what has earned the plane the nickname "double bubble."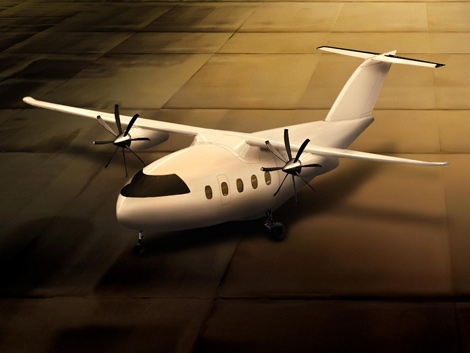 A design for a passenger aircraft by GE (NASA/GE Aviation)
NASA calls this initiative the "N+3" to signify that the aircraft industry must be revolutionized in three generations.  The agency has also assigned certain groups to design a passenger plane that could travel at supersonic speeds. In their recent report on the results of this challenge, NASA pointed out that while some of the designs might seem a bit retro on the outside (see image above from GE), looking under the hood is likely to yield more technical wonders:
"You may see ultramodern shape memory alloys, ceramic or fiber composites, carbon nanotube or fiber optic cabling, self-healing skin, hybrid electric engines, folding wings, double fuselages and virtual reality windows."
With any luck, we can expect to see the designs created for this program take to the air in 2035.
Filed under: Aerospace, e-News, Materials, Transportation
Tags: Aerospace, Aviation, Green Transportation, Materials, Transportation