Posted on
March 29th, 2015
by Mary Lord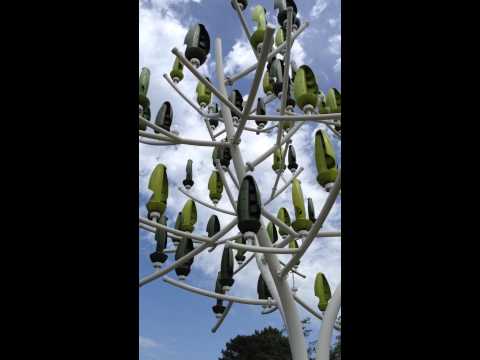 Where do inventors get their great ideas?
For French entrepreneur Jérôme Michaud-Larivière, inspiration for his tree-like wind turbine struck while he was sitting on a park bench, watching leaves flutter.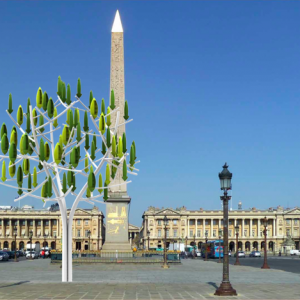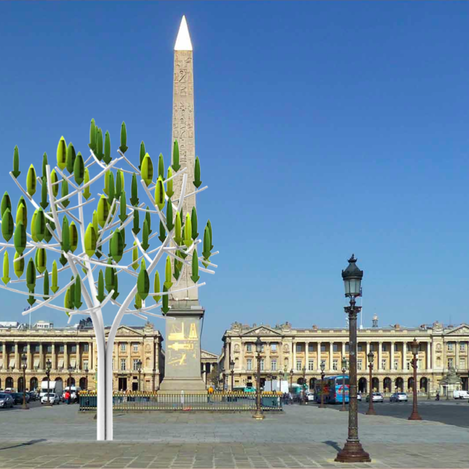 His first Wind Tree goes up in Paris's Place de la Concorde later this year. (Photo, left) Its steel trunk stands 36 feet tall and has 72 artificial leaf-like micro-turbines that spin vertically on an axis. Unlike industrial-sized turbines, it's silent – all of its cables and generators are buried deep within its leaves and branches. And it can create power even from light breezes, allowing it to provide electricity for more than 280 days a year.
If the prototype works as well as Michaud-Larivière hopes, it could blossom into a forest of turbines across Paris and beyond. Also in the works at his New Wind company: "foliage" that can be installed on rooftops or along roads, and a scaled down "wind bush."
Photo courtesy of Wind Tree
Filed under: e-News, Environmental
Tags: electrical power, Environment, leaf, Paris, turbine, wind power, Wind Tree