Posted on
November 27th, 2013
by Mary Lord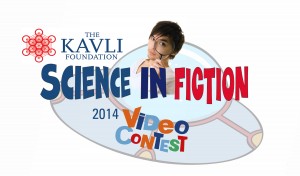 Do you love the idea of time travel, teleportation, brain-powered computers, cyborgs or other far-fetched technology that has appeared in fantasy literature and movies?
Today's scientists and engineers are discovering ways to make these ideas become reality.
And you can help them imagine how to do that – and win cash awards! The Kavli "Science in Fiction" video contest asks middle and high school students to investigate how science is portrayed in TV, films, and games, and then make a 30- to 90-second video about how current or emerging technologies could help realize those science fiction concept.
Or describe what science needs to discover to make it really happen!
The entry period runs from NOV. 1, 2013 – MARCH 21, 2014
Go to Contest Entry Form
Contest open to Grades 6-12, International and U.S. Students
PRIZES:
1st- $2000 and travel to the USA Science and Engineering Festival in Washington, D.C., April 26-27, 2014
2nd- $750
3rd- $500
People's Choice $250
Tags: Competitions for Students, Contest, Kavli Science in Fiction contest, science fiction, video contest