Posted on
April 23rd, 2014
by Mary Lord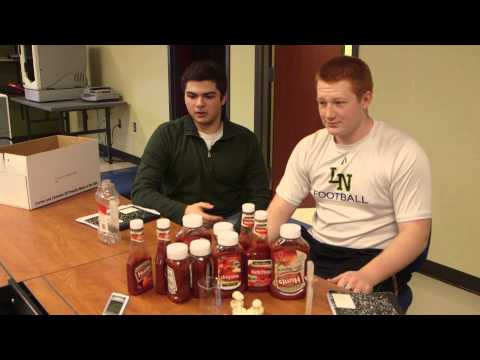 Engineers often seek ways to improve something that really bugs them. For Missouri high school seniors Tyler Richards and Jonathan Thompson, that something was the watery, yucky glop that first squirts from the bottle and ruins an otherwise delicious burger or hot dog.
The quest for a better ketchup dispenser became their engineering-class project.
First, the pair researched ketchup-themed patents to make sure their invention didn't already exist, reports Fast Company and Popular Science. Finding none, they then sketched out dozens of potential design solutions before selecting one nicknamed the "mushroom" to prototype on the school's 3-D printer.
The plastic device, which fits just under the cap inside the bottle, works like an upside-down umbrella. When the bottle is squeezed, the round base traps the watery layer while the thicker ketchup gets pushed up and out.
Richards and Thompson say they have no plans to market their  mushroom device. Which means diners must rely on the old-fashioned way of ensuring thick ketchup: Shake the bottle before squeezing.
Filed under: e-News, e-Videos, Meet More Students
Tags: 3-D printing, engineering design, high school inventors, ketchup, Mechanical Engineering, Project Lead the Way