Posted on
June 20th, 2012
by Mary Lord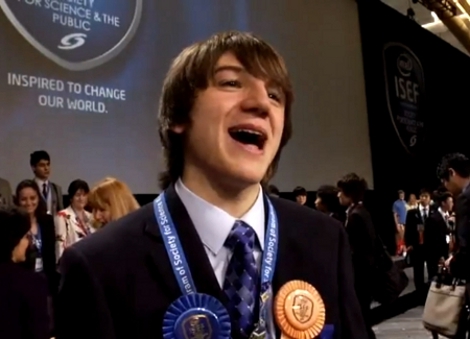 There are garage start-ups and then there's the wood-shop-turned-invention-factory in the garage where Jack Andraka, 15, dreamed up a prize-winning science fair project that could change how cancer is detected and treated.
His breakthrough–a lowly piece of filter paper dipped in an antibody-coated carbon nanotube solution engineered to bind with a specific virus or protein–just won the $75,000 grand prize at the prestigious Intel International Science and Engineering Fair (ISEF). He beat more than 1,500 entrants  from 70 countries. Not bad for a high school freshman!
Andraka, who lives in Crownsville, Md., has enjoyed doing science and engineering since he was three. His dad, a civil engineer, stoked that passion by buying him and his older brother things like a plastic model river with running water and foam boats, and answering any question by saying 'go figure it out for yourself.'  When Andraka became fascinated with bioluminescent bacteria, he hit the garage wood shop and built a box to test how they would light up under different stimulation.
Although Andraka won a string of ISEF competitions since first entering them in sixth grade,  he is no stranger to setbacks. Almost 200 researchers rejected his search for a lab to conduct his nanotube-strip work before a Johns Hopkins University scientist offered him the space. "Make sure to be passionate about whatever it is you get into, because otherwise you won't put the right amount of work into it," he advises. "No one will be excited about your work if you're not excited about it."
Andraka, who recently gave a TED talk about his work, is in the process of patenting his invention. He also plans to submit his work to the American Association for Cancer Research for publication, and will be speaking before Congress later this month about the need for more funding on pancreatic cancer, which has a slim 5.5 percent survival rate. Four companies have already contacted him about potentially licensing or commercializing his idea, Forbes reports.
After that, school may seem pretty tame. Not that Andraka lacks for excitement. When he's not studying or following his curiosity, he competes on the junior national whitewater rafting team and kayaks West Virginia's Cheat and Youghiogheny rivers. While he hopes to finish high school, Andraka says he will postpone the diploma if his nanotube test strip takes off commercially.
Watch Jack Andraka fulfill his childhood dream of winning the 2012 ISEF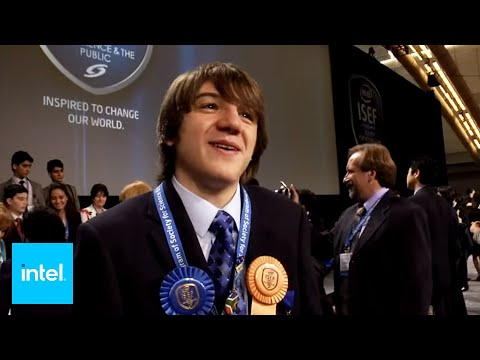 Filed under: Biomedical, Chemical, e-News, Materials
Tags: Biomedical, cancer, grand champion, Intel Science and Engineering Fair, ISEF, Jack Andraka, nanotube