Posted on
August 24th, 2012
by Mary Lord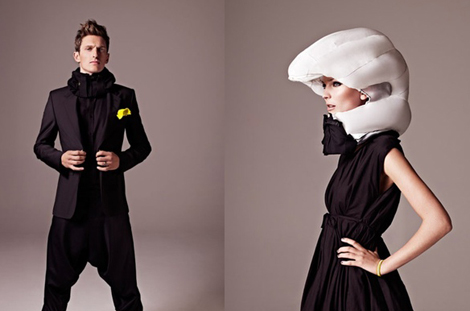 Who says safety can't be stylish? Anna Haupt and Terese Alstin, two young Swedish designers, have developed an unobtrusive bike helmet that operates like a self-deploying air bag to protect your head.
The inspiration for the project hit back in 2005, when Sweden passed a law requiring bicycle helmets for children up to age 15. Soon, people were debating whether the law should extend to adults, too. Haupt and Alstin, who were working on master's degrees in industrial design at Lund University's engineering school at the time, decided to see if they could improve on the traditional helmet for their graduate thesis. [Read the eGFI blog post from Oct. 2010]
The resulting Hövding (it means "chieftain" in Swedish) comes in a pouch that resembles a puffy ski-jacket collar when wrapped around the neck. Gyroscopes, accelerometers, and other electronic sensors can sense a bike crash and immediately inject helium into the nylon bag, inflating it like an airbag around the cyclist's head. An internal "black box" keeps a 10-second record before and during the crash; the designers hope to use the embedded information to improve their product.
At $600, the helmet isn't cheap. And once deployed, you need a new one. Still, the concept and research that went into designing the Hövding are inspiring. So is the helmet's potential to protect riders from skull fractures and brain injuries.
Filed under: e-News, Explore Engineering, Materials
Tags: airbag, Anna Haupt, bicycle, bike helmet, Design, head injury, helmet, Hovding, industrial design, safety, Sweden, Terese Alstin