Posted on
November 27th, 2013
by Mary Lord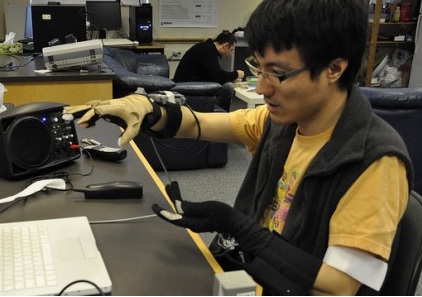 Guest author Felix Tang is an engineering student at the University of British Columbia. He created this post for senior instructor Annette Berndt's technical writing class.
People always imagine Stephen Hawking's monotone voice when they talk about speech synthesizers. I could never finish watching or listening any of the famous physicist's speeches because I cannot stay focused on his emotionless voice. Most traditional text-to-speech synthesizers receive commands from keyboards and generate monotone voices through speakers.
Professor Sidney Fels and his team from the University of British Columbia in Vancouver, Canada have developed a gesture-to-voice synthesizer that recognizes the user's hand gestures and generates emotional voices based on them. The team predicts it will only take users about 100 hours to learn all the programmed gestures, which is faster than other communication systems require. "It's like playing a musical instrument that plays voice," explains Fels.
The synthesizer uses 3-D position sensors that recognize hand gestures and positions, and converts them into voices. If this synthesizer is commercially produced, we might one day literally hear a mute person talking. You could even talk with your mouth full!
Engineers should not only create marvelous devices but apply their knowledge to make our world better. Professor Fels suggests using the synthesizer as a musical instrument. I dream of using the synthesizer as an animal-human translator with animals like Koko, the gorilla (see the Video of the gorilla Koko) who can communicate with humans using basic gestures.  What would your engineering dream be?
See and hear the gesture-to-voice synthesizer in action: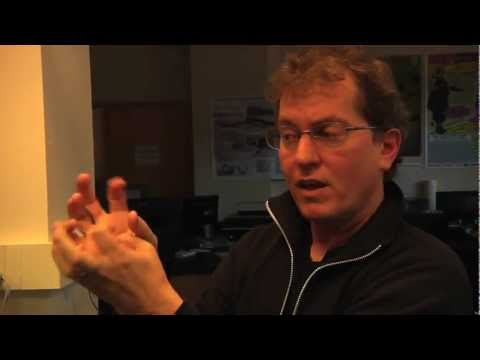 Filed under: Computer, Electrical, Explore Engineering
Tags: Electrical, Felix Tang, gesture-to-voice, hand, Music, Music engineering, mute, sensors, Sidney Fels, sign language, synthesizer, University of British Columbia