Posted on
November 28th, 2011
by axb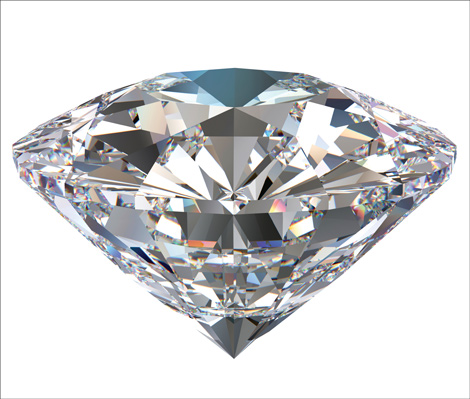 Computer chips and electronic circuitry made from diamonds? Sounds like just bling, but nanodiamond-based components for microelectronic devices not only are very robust; they're inexpensive.
Developed by researchers at Vanderbilt University, the devices are made by depositing a thin nanodiamond film on a layer of silicon dioxide and then vacuum-packaging it. Electrons flow through the vacuum between the components rather than through materials like solid-state chips, so they don't produce as much heat. Potentially, they can operate at higher speeds while using less power than silicon-based devices, says Jimmy Davidson, a research professor of electrical engineering. They're also very tiny. One diamond carat would create a billion chips, so they're cost-competitive with silicon, and sturdy enough to withstand temperatures ranging from 900 degrees to minus 300 degrees Fahrenheit.
Possible applications include military electronics, circuitry for spacecraft, and sensors that operate in high-radiation areas. In fact, Davidson says, his nanodiamond chips would be ideal for fail-safe circuitry in nuclear reactors. Perhaps Pink Floyd said it best: Shine on, you crazy diamond.
Story originally appeared in the November 2011 issue of Prism magazine
Filed under: Computer, e-News, Electrical, Mining, Nuclear
Tags: Computer, Electrical, Mining, Nuclear