Posted on
September 2nd, 2011
by axb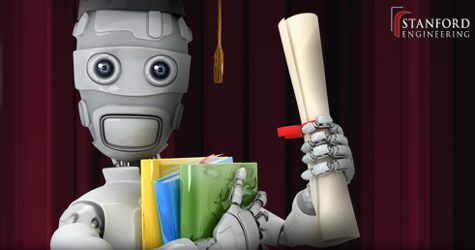 Want to go to Stanford University but a little short on funds (or maybe still in high school)? No need to worry – this fall, Stanford School of Engineering will be offering three lecture courses online, open to the public, and free of charge.
Two professors in the Stanford School of Engineering, Peter Norvig and Sebastian Thrun, say in a recent New York Times article that they were inspired by the achievements of Salman Khan in bringing free online education to the world. According to Thrun, "The vision is: change the world by bringing education to places that can't be reached today."
So far Norvig and Thrun's Introduction to Artificial Intelligence class has attracted over 58,000 signups. Also offered will be Introduction to Databases and Introduction to Machine Learning, so sharpen your pencils and get ready to learn from some of the world's smartest engineers!
Classes start in early October, so sign up soon.
Images:
Stanford University School of Engineering
Filed under: Computer, e-News, Electrical
Tags: Artificial Intelligence, Classes, Computer, Electrical, Events, Robotics