Posted on
September 13th, 2011
by als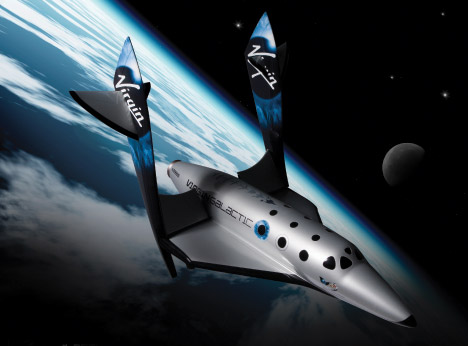 New spacecraft may soon be fulfilling tourists' astronautical dreams.
Want to indulge your inner Buzz Lightyear? You soon may have that chance.  Space tourism, once an idea confined to science fiction, is fast becoming a reality. Teams of engineers at several companies are furiously developing spacecraft to send tourists on suborbital flights into space, perhaps as early as next year. Space travel for the masses won't come cheap. At a minimum, it'll cost you around $100,000 to become a real astronaut and gaze down upon Earth. Despite the astronomical prices, space tourists may number 20,000 per year by 2020. Here's a look at five pioneers of a burgeoning industry.
VIRGIN GALACTIC
British entrepreneur Richard Branson, whose Virgin brand encompasses everything from airlines to Internet services, expects his venture soon will be whizzing tourists into space. A mother ship, the WhiteKnightTwo, will carry the six-passenger SpaceShipTwo (below) to 50,000 feet. At that point, SpaceShipTwo — which is named VSS Enterprise and has now flown solo seven times since its public roll-out in December 2009 — will rocket beyond the stratosphere to a peak altitude of 62 miles. Voyagers will experience weightlessness and unearthly views. The price? A steep $200,000. Nevertheless, Virgin Galactic has already booked more than 400 reservations. It also has built a cool, eco-friendly spaceport in the New Mexico desert designed by iconic architects Foster + Partners.
BLUE ORIGIN
Backed by Jeff Bezos, the billionaire founder of Amazon.com, Blue Origin hopes to start weekly treks into space by 2012 from a port in rural Texas. Blue Origin's craft, the New Shepard, is a cone-shaped, computer-controlled rocket that will carry three passengers and take off and land vertically. The company has successfully tested a prototype of the craft several times, but suffered a setback on August 24, 2011, when a high-altitude test went awry, causing the rocket to crash.
SPACE ADVENTURES
So far, only a handful of extremely rich civilians have journeyed into space as tourists, thanks to Space Adventures. The Virginia-based company books passengers aboard the Russian Soyuz rockets that routinely fly to the International Space Station in orbit approximately 215 miles above Earth. Google cofounder Sergey Brin plunked down $5 million toward the $30 million trip. Space Adventures also is booking seats on a planned 2015 mission to circumnavigate the moon and announced the first passenger had signed on for $150 million. For non-billionaires, the company has been working with Armadillo Aerospace to develop a suborbital spacecraft that will whisk a pilot and three passengers to an altitude of 62 miles.  The bargain price: $102,000.
EADS ASTRIUM
This subsidiary of EADS, the European aeronautics company that makes Airbus jetliners, is working on a rocket the size of a business jet that will shoot four passengers 60 miles into space for three minutes of gravity-free fun. The Spaceplane project, which was unveiled in 2007, is expected to take at least seven years to develop and certify a rocket-powered aircraft able to take off and land at civilian airports. Cost: at least $240,000.
XCOR AEROSPACE
For budget-minded budding astronauts, there's this California manufacturer of rockets and engines. XCOR is building — and expects to test in 2012 — a pocket-sized rocket plane called Lynx that will zap a pilot and one passenger 38 miles into space for a 90-second taste of weightlessness. Cost: a mere $95,000. Ticket sales on the Lynx began April 1, 2011. First passengers include a Victoria's Secret model and major league baseball pitching coach.
These ventures won't blast tourists to infinity — and certainly not beyond. But cutting-edge engineering ensures they'll soon be providing infinitely amazing adventures.
Watch this video of an animated Virgin Galactic flight here:
Filed under: Aerospace, Explore Engineering
Tags: Aeronautics, Aerospace, Technology