Posted on
December 14th, 2009
by rxt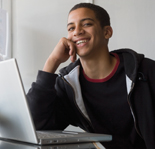 Deadline: Jan. 31, 2011. Level: Grades 7-12
Submission period opens November 15, 2010.

In its 25th year, the DuPont Challenge Science Essay Competition is one of the premiere science competitions in North America, inspiring students to excel in scientific writing. The DuPont Challenge has students write a 700 to 1,000 word essay discussing a scientific discovery, theory, event, or technological application that has captured their interest. Essays are judged based on ideas and content, mechanics and conventions, organization, style, creativity, and originality. All entries must be received by midnight Jan. 31, 2011. The DuPont Challenge attracts more than 10,000 entries annually.
Eligibility
Students currently enrolled in grades 7 through 12.
Students attending public, private, or home schools in the United States, Canada, or their territories.
Students enrolled in Department of Defense schools, grades 7–12 (see the FAQ for how to enter addresses).
Previous winners of The DuPont Challenge©.
Students graduating from high school before 2011 are NOT eligible.
Divisions
Students from grades 7-12 are eligible to take part in the DuPont Challenge, and essays are evaluated in two divisions: Junior Division (grades 7, 8, and 9) and Senior Division (grades 10, 11, and 12). Each division is judged by National Science Teachers Association (NSTA)-selected science teachers from across the United States, and scientists from NASA and DuPont.
Awards
In each division, the first, second, and third-place winners will receive $5,000, $3,000, and $2,000 U.S. Savings Bonds, respectively. All three winners in each division will receive an expenses-paid trip to The Walt Disney World® Resort and Kennedy Space Center, accompanied by a parent. Honorable mentions will each receive a $200 U.S. Savings Bond.
2010 Winners
In 2010, a seventh-grader at Tower Hill School in Wilmington, DE, was awarded First Place in the Junior Division for his essay exploring the use of algae as sustainable biofuel; Alex Sincere, a junior at Evanston Township High School in Evanston, IL, was awarded First Place in the Senior Division for an essay about stem cell research on mice that could lead to a treatment for human blindness.
Teachers and students should consult the Website for more information, including tips on selecting a topic, conducting research, and writing a prize-winning essay. Excerpts of the 2010 award essays and finalist essays are also available.
Filed under: Grades 6-8, Grades 9-12, K-12 Outreach Programs, Scholarships