Posted on
October 6th, 2011
by axb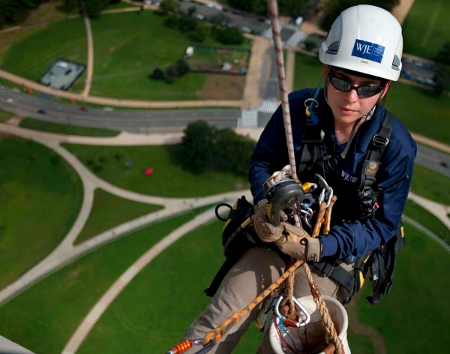 Emma Cardini, a structural engineer, inspects the Washington Monument

A little over a month ago, residents of the DC Metro Area (including our eGFI staff) were stunned to experience what for many of us was our first major earthquake. While fortunately the 5.8 quake caused no significant harm or loss of life, many buildings and monuments are still in need of inspection to ensure their structural soundness.
As a result, this week one lucky team of engineers completed their most most exciting assignment yet: rappelling down the Washington Monument to check for cracks and other earthquake damage. Among them was structural engineer Emma Cardini, who has also inspected some pretty impressive facades, including the Chicago Tribune Tower and the Bridge of the Americas in Panama. Still, nothing compares with the capital bird's eye view she literally enjoys on her latest job.
The view of the city is "awesome," as is working on the monument, she said in a Washington Post profile. "For an engineer, it's Disney World."
WJE's Dan Gach and Emma Cardini inspect Washington Monument Sept. 28
Cardini, 32, is part of a specially trained "difficult access team" of engineers and architects sent to examine hard-to-reach structures for Chicago-based Wiss, Janney, Elstner Associates. Rappelling down facades not only allows for close inspection of areas that scaffolding and aerial lifts can't reach, it's faster and more efficient because fewer personnel need to be involved on the site.
To access the facade, the engineering team had to open a long-shuttered hatch and observation windows at the top of the monument, install the lines, strap on safety harnesses, and slowly begin lowering themselves down from the pyramid-shaped cap. That's where a large, inch-wide crack was discovered and where the team expected to find the most damage. The work is fairly straightforward. Team members have masonry tools to remove loose mortar or stone, and a soft mallet whose tap can audibly reveal weaknesses. Each also carries a two-way radio and an iPad loaded with information from the 1999 restoration of the monument, allowing visual confirmation of damage.
The daredevil crew finished their inspection of the monument yesterday, and is expected to tackle the spires of the National Cathedral next.
Read more about the daring mission on our Teacher Blog

Filed under: Architectural, Civil, e-News
Tags: Architetural, Civil, Structural