Posted on
May 31st, 2011
by axb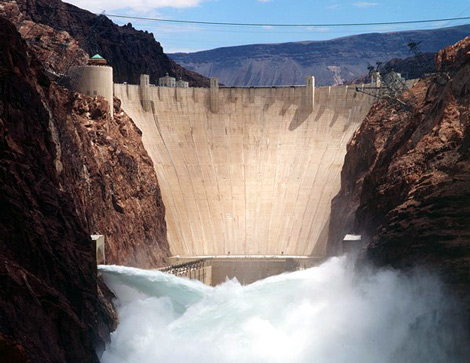 Planning a road trip this summer? Whether en route to a beach, lake, or national park, there are plenty of engineering landmarks to admire along the way — including the interstate highway system along which most travelers must pass. Here are some designated engineering destinations worth braking for:
Hoover Dam: More than a million visitors a year tour this National Landmark (pictured at the top) that towers 725 above the Colorado River 30 miles southeast of Las Vegas, NV. Read ASEE's Prism magazine columnist Henry Petroski on the dam's 75th anniversary.
Lookouts on Chicago's Willis Tower Sky Deck and Grand Canyon skywalk.
Erie Canal, Albany to Buffalo, N.Y. Completed in 1825, the canal opened a commercial route from the Atlantic coast to the Great Lakes. An historic civil-engineering landmark.
Mississippi River levees: The great Mississippi flood of 1927 spurred efforts to improve the river's channel and navigation, protect its banks, prevent future floods and promote commerce – the most complex domestic engineering problem yet tackled by the U.S. government. The resulting $12 billion worth of levees, basin improvements, channel stabilization and floodways held until Hurricane Katrina struck in 2005.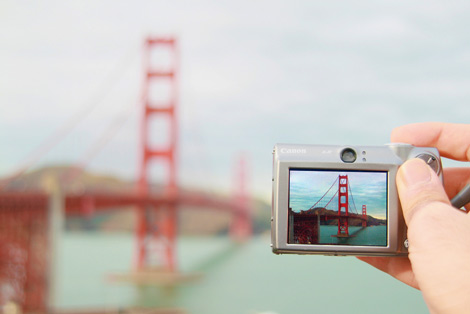 Golden Gate Bridge, San Francisco, Calif. The elegant span across San Francisco Bay (pictured above) turned 75 this Memorial Day weekend. It opened to pedestrians on May 27, 1937 and for traffic the following day; the San Francisco Chronicle dubbed it a $35 million steel harp. At 4,200 feet, the bridge was the longest span in the world until the New York's Verrazano Narrows Bridge opened in 1964. Seven overseas bridges have surpassed both U.S. spans.
Brooklyn Bridge, New York, N.Y. Completed in 1883, the iconic East River span was once the longest suspension bridge and is just one of the city's many iconic structures — along with the Holland Tunnel, Statue of Liberty, and subway system — designated historic civil-engineering landmarks by the American Society of Civil Engineers.
Mount Washington Cog Railway, near Bretton Woods, N.H. America's first cog railway, the coal-powered train has been ferrying tourists and researchers to the summit of Mt. Washington, the northeast's highest peak at 6,288 feet, from the Marshfield base station for over a century. No. 18 on the American Society of Mechanical Engineers' historic mechanical-engineering landmarks.
Washington Monument, Washington, D.C. At 555 feet – 5.125 inches, this popular destination in the nation's capital is the world's tallest stone structure.
Penobscot Narrows Bridge & Observatory, Maine. The 2,120-foot span outside Bangor is the first of its kind in the United States and has a Washington Monument-style obelisk with sweeping views of the mountainous countryside.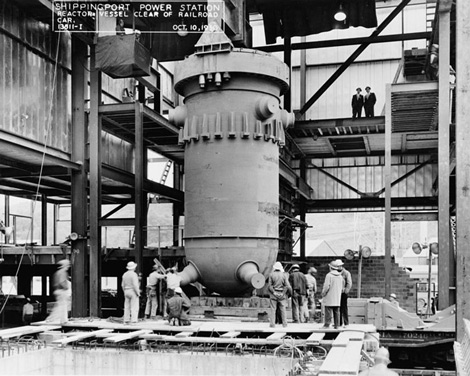 Shippingport Atomic Power Plant, Shippingport, Pa. The country's first nuclear plant went online in 1957 (pictured above a year before its opening) and is one of more than 200 historic mechanical-engineering landmarks designated by the American Society of Mechanical Engineers.
Cornish-Windsor Covered Bridge, between Cornish, N.H., and Windsor, Vt. Finished in 1866, this 204-foot span across the Connecticut River was the longest covered bridge in the country until Ohio's Smolen-Gulf bridge opened in 2008.
Court Avenue, Bellefontaine, Ohio: A stretch near the courthouse built in 1891 is considered the first street paved with concrete in America.
Cascade Tunnel, Everett, Wash. A series of two tunnels, the second one, built in 1929 and still in operation, connects Chelan County in the east with King County in the west. At 7.8 miles, it's America's longest railroad tunnel.
Chesapeake Bay Bridge-Tunnel: Opened to acclaim in 1964, this 20-mile, four-lane wonder crosses over and under open waters where the Chesapeake meets the Atlantic off Virginia and Maryland. Its series of high bridges, low trestles, two mile-long tunnels, and man-made islands was dubbed an "outstanding civil engineering achievement" by the American Society of Civil Engineers.
Rollercoasters! Anywhere, any time. Read about New Jersey's Kingda Ka ride for info on one of the world's tallest coasters.
Images:
U.S. Department of the Interior
Anirudh Koul/Flickr
U.S. Department of the Interior/Wikipedia
Filed under: Architectural, Civil, e-News, Electrical, Environmental, Mechanical, Nuclear, Transportation
Tags: Architectural, Civil, Electrical, Environmental, Mechanical, Nuclear, Transportation