Posted on
September 9th, 2011
by axb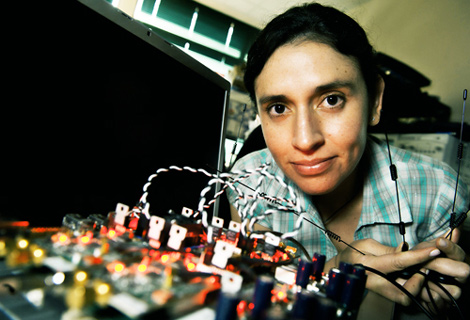 Melissa Duarte, a Rice University graduate student, with a "full-duplex" prototype
Engineers at Rice University have accomplished a feat that should bring happiness to all smart-phone users: "full-duplex" technology, a breakthrough that could instantly double the capacity and speed of existing wireless networks without the need for additional cell towers.
Much like people, modern wireless devices are not able to both "talk" and "listen" at the same time, meaning they must send and receive data on different frequencies. With full-duplex, however, information can be transmitted simultaneously in two directions.
To explain how such a thing is possible, Rice University professor of electrical and computer engineering Ashutosh Sabharwal uses an analogy of two people shouting to each other across an empty space. If both speak at the same time, neither can hear what the other one is saying. One option is to have them shout one at a time, but full-duplex technology would allow them to speak to each other simultaneously.
Through adding extra antennas and employing some clever computer algorithms, the Rice team was able to achieve a local cancellation that blocks the sending antenna from hearing its own signal. To use the previous analogy, this would mean that each person would not be able to hear themselves shouting, which would enable them to listen to what the other had to say.
Sabharwal and his research team explain their breakthrough in this video:
Full-duplex could have a significant impact on wireless networks in the future, so prepare to say goodbye to those pesky loading bars.
Image:
Jeff Fitlow/Rice University
Filed under: Computer, e-News, Electrical
Tags: Computer, Electrical, Technology