Posted on
March 29th, 2011
by jxh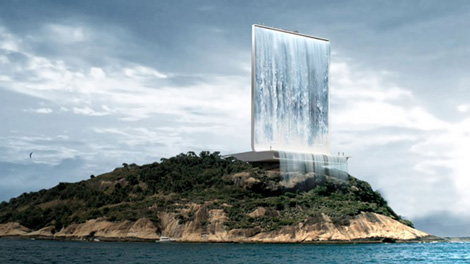 Last year we reported on the sustainability efforts of the 2010 Winter Olympics in Vancouver, which made the games the greenest yet. Vancouver was outfitted with solar panels, green roofs, and mechanisms to collect and recycle rainwater. Award medals were made from re-purposed electronic waste.
Now, Rio de Janeiro is aiming to create the first games with a zero-carbon footprint when it hosts the Summer Olympics in 2016.
To help the city achieve this goal, Swiss-based RAFAA Architecture and Design has proposed a Solar City Tower, which features a visually stunning energy-generating waterfall.
Solar City Tower is RAFAA's entry in the International Architecture Competition for the Olympic Games in 2016. Solar panels on the tower produce energy for the Olympic village by day, while seawater that is pumped into the tower drives turbines that generate electricity at night.
On special occasions the water can also be pumped over the edges of the building to create a dazzling waterfall, and an instantly recognizable landmark for visitors arriving in Rio by air or sea.
RAFAA proposed locating the Solar City Tower on the Cotunduba Island, and equipping the tower with an observation deck as well as a balcony at the top of the tower that would provide visitors with a 360-degree view of the surrounding landscape. A glass skywalk platform would let visitors walk over the waterfall. There would also be a retractable platform for bungee jumping.
Does this make you want to travel to Rio for the Summer Olympics even more?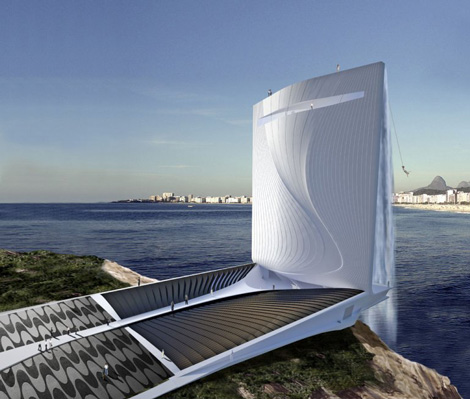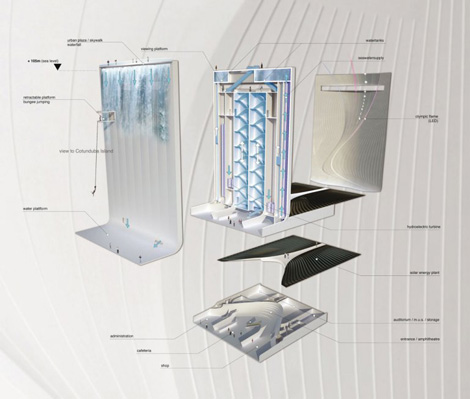 Images: RAFAA
Filed under: Architectural, e-News, Environmental, Ocean
Tags: Architectural, Energy, Environmental, Green Technology, Ocean, Olympics, renewable energy, Sports