Posted on
February 25th, 2010
by axb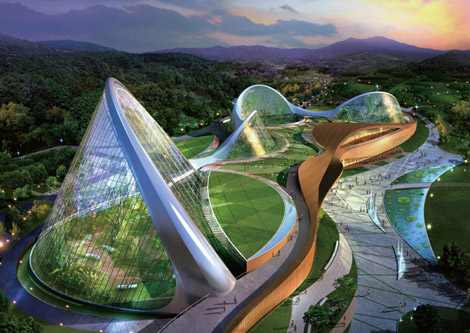 These days, living inside a bubble is beginning to look more and more attractive. South Korea is planning to construct a series of giant eco domes that mimic the world's ecosystems while providing a place for scientists and regular citizens to study the environment.
We've written about smog-eating cement and vertical farms, but now, green buildings may have the ability to recreate entire ecological environments. Designed by SAMOO Architects and Engineers, the Ecorium Project spans 33,000 square meters and will feature an education center, a wild plant area, a wetland reserve, an environmentally-focused think tank, and a large system of interconnected greenhouses.
A railway is also being planned to increase accessibility for the public. The greenhouses will be equipped with advanced technology capable of adjusting the internal conditions based on the climate outside, which will decrease the overall amount of energy used.  Each greenhouse will be built out of metal panels, wood, and plexiglass, and look like a winding river, if seen from above. Twisting, leaf-like shapes will also be used throughout the architecture.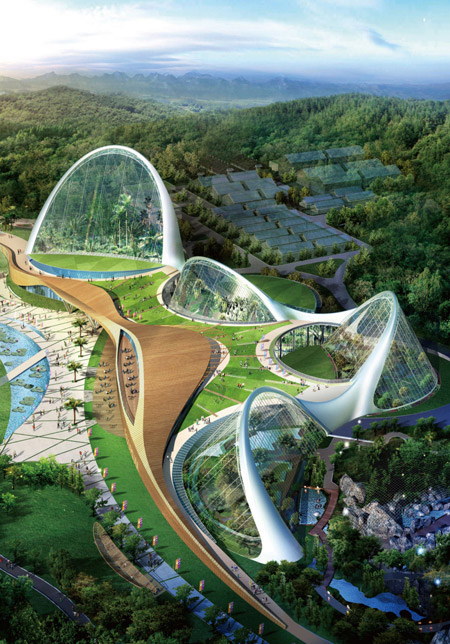 Ecorium scientists will study nature's many different ecosystems and how to best protect them, but also offer public exhibitions and education programs on environmental preservation. The National Ecological Institute of South Korea plans to use its findings to influence public policy and create laws to protect the environment. And you thought your local science center was cool!
Meanwhile, in the U.S., both the federal and state governments are working to make building standards greener, which means more jobs for engineers interested in saving the environment and changing the way we build. Check out this exciting overview of green building jobs and internships from the Washington State Department of Ecology:
Images from Samoo Architects and Engineers
Filed under: Agricultural, Architectural, e-News, Environmental
Tags: Agricultural, Architectural, Energy, Environmental, Green Technology, renewable energy