Posted on
May 11th, 2011
by axb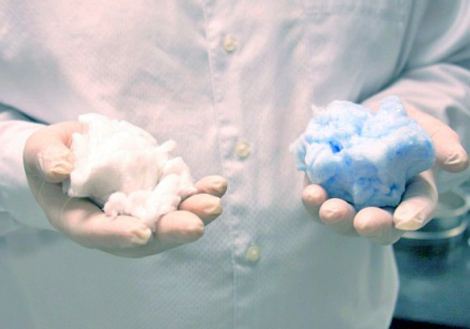 It's not edible, but this new fiber could be the right medicine for persistent wounds.
A fluffy new material composed of glass fibers could be the latest in wound-healing technology, say researchers from Missouri University of Science and Technology. This cotton candy-like substance (pictured above) is composed of borate glass nanofibers and has been labeled DermaFuse.
As its name suggests, DermaFuse works to meld with the patient's tissue by mimicking the microstructure of blood clots. As the material dissolves, alkaline chemicals are released into the wound that kill bacteria and speed the growth of new blood vessels.
This technology could be especially useful in treating venous stasis, a condition sometimes found in diabetics that causes wounds to take a very long time (up to years) to heal and sometimes results in bad infections and amputations. A clinical test in 2010 found that most subjects with difficult-to-heal wounds saw improvements just days after applying the new material.
Dr. Delbert E. Day, professor emeritus of ceramic engineering (a subdivision of materials engineering) at Missouri S&T and co-creator of DermaFuse, forsees widespread use of nanotech bandages, from household first aid kits to the battlefield. His team will soon test the healing fluff on a wider variety of patients, including burn victims.
Filed under: Biomedical, e-News, Materials
Tags: Biomedical, Materials, Nanotechnology